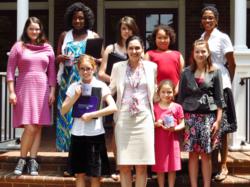 These girls were simply amazing
Fredericksburg, VA (PRWEB) July 06, 2012
The SheEO® Academy recently took a field trip to Marstel-Day, LLC. Marstel Day is an environmental consulting company headquartered in Fredericksburg, VA with offices also in Alexandria, VA;Oakland, CA; and Stennis Space Center, MS.
The young SheEOs met a real-life SheEO, Marstel-Day's President and CEO Ms. Rebecca R. Rubin, to learn how she generated the idea for her business and executed her plan. The Young SheEO's current course, titled Original SheEO, focuses on what it means to be an original and how originality will help them succeed in their future business, career and life. Ms. Rubin proves that being passionate about an original idea and not being afraid to execute it will make successful SheEOs.
"These girls were simply amazing," said Rubin. "We explored a wide range of issues, such as their passion for and commitment to excellence, their concerns about tolerance and acceptance of their ideas and their originality, and their search for their own personal truth."
Marstel-Day is a female-owned, certified HUBZone (Historically Underutilized Business Zone), small business started by company president and CEO Rebecca R. Rubin in 2002. A list of Marstel-Day's accomplishments includes, but is not limited to:
Celebrating 10 years in business
5-year, 10 million dollar contract with US Air Force
5-year, 20 million dollar contract with US Army Corps of Engineers
For more information about The SheEO® Academy, please visit http://www.SheEOacademy.com, and remember, "A girl in charge today is tomorrow's CEO."