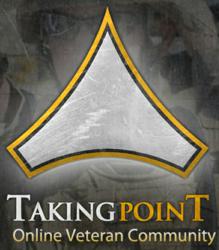 Capture military experiences and join the movement called Veteran Force, and tell your story
(PRWEB) July 08, 2012
The United States of America has a complicated history with her veterans. Those who serve deserve praise and support for their decision to put the interests of the nation before their own safety, but that often does not help individual veterans when they leave the military and begin the challenging transition to civilian life. More often than not, veterans feel isolated from civilians, sometimes even close friends and family. TakingPoint offers individuals the opportunity to connect with their military friends, find other vets in their area, and share stories of their service and life afterward.
A New Type of Community
Up to the Vietnam War, there was widespread veteran membership in official organizations with local chapters where vets congregated. The all-volunteer military of the last forty years rarely takes advantage of such groups, and our dwindling numbers make it difficult to connect with others who understand our background and the struggles unique to the veteran community. Fortunately, advances in social media technology have unlocked other options for American men and women who served our country. TakingPoint the veteran social network grasped this opportunity to connect veterans in ways that were impossible only a few years ago. Vets can now reach out to each other across the country using our online network, which was designed by veterans who face the same challenges and understand the need to connect with people who share the military bond.
Humble Beginnings
David Johnson, TakingPoint's CEO, was honorably discharged from the Army after three tours in Iraq with 10th Special Forces Group. He returned home to Phoenix, where his isolation in college prompted the founding of ArmedZilla in 2010 with ambitious goals: offering a platform to share military stories; providing veteran-to-veteran support; improved access to benefits; and bringing together the fragmented world of veteran and military supporters. David has spent the last few years building up his team of veterans from the Army, Navy, Air Force, and Marine Corps, recruiting top-tier engineering talent from Silicon Valley, and talking to every veteran he could find about ways to improve their lives in the civilian world.
Leading from the Front
As the company grew and matured, David realized the need to focus on the core population, American veterans. As part of Operation Veteran Force, ArmedZilla changed its name to TakingPoint - honor the fallen, promoted a veterans-only focus, and instituted stronger privacy controls. TakingPoint now offers the best network for American veterans. We can speak our minds, remember lost friends, share stories, and connect with other veterans nearby who would otherwise never meet. That is the vision of Veteran Force: to provide the safe community veterans need to succeed. Every day, someone joins TakingPoint and takes the first steps toward a more rewarding civilian life without losing the powerful bond that forms a central part of our identity.