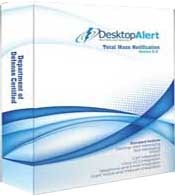 Chatham, New Jersey (PRWEB) July 06, 2012
Desktop Alert, Inc., (http://www.desktopalert.net) the provider of 'less than one minute' bi-directional network-centric emergency mass notification systems to military, government, healthcare, higher education, industrial and commercial organizations, today announced the U.S. Air Force has deployed the Desktop Alert Mass Notification platform to the 6th Medical Group located at MacDill Air Force Base to improve upon the current notification capabilities.
The 6th Medical Group supports combat capability of the 6th Air Mobility Wing, USCENTCOM, USSOCOM, and over 50 tenant units by providing administrative, logistical, and ancillary medical support serving 106,000 beneficiaries in DoD's largest single catchment area. Through four squadrons, the medical group offers a variety of Primary Care services to its beneficiary population including: ambulatory surgery, acute care, family practice, pediatrics, mental health, optometry, immunizations, flight medicine, gynecology and dental services.
Desktop Alert exceeds DoDi 6055.18 mandatory requirements for an emergency management installation that reaches all personnel within 10 minutes or less. The Desktop Alert mass notification platform alerts 99% all targeted personnel in less than one minute.
"Our notification platforms deployment across both the U.S. Air National Guard and the U.S. Army National Guard enterprise in 54 states, territories and locations produced highly positive past performance reports which are now under review by U.S Army and U.S. Air Force Enterprise. Most notably, our products ability to send out alerts to all personnel in less than one minute has gained significant attention from our existing and prospective military customers," said Howard Ryan, Chief Research and Development at Desktop Alert Inc.
"These large-scale implementations support future growth with our customer base. As business units scale up in deployment scope our product cost scales down significantly. The current architecture of the Desktop Alert mass notification system is highly scalable and allows for additional integration of third party systems, additional government agencies and government partners," Ryan added.
The company currently serves the following Air Force locations:

Air Force Space Command HQ
Air National Guard Nationwide (88 Bases)
United States Air Force Academy
721st Communications Group, Cheyenne Mountain
Malmstrom Air Force Base
Morón Air Base
Dover Air Force Base
Buckley Air Force Base
Maxwell Air Force Base
MacDill Air Force Base 6th Medical Group
In addition to its ongoing expansion within the Air Force, the vast majority of U.S. Army locations worldwide now utilize the Desktop Alert emergency communication platform, establishing Desktop Alert as the preferred network-centric notification platform in the U.S. Army nationwide.
About Desktop Alert Inc (http://www.desktopalert.net)
Worldwide U.S. Military organizations such as The United States National Guard, The United States Air Force Academy, The United States Military Academy at West Point, Multi-National Forces in IRAQ, The U.S. Air Force, The U.S. Army now utilize the DTA mass notification platform daily for their organizations emergency communication requirements. Desktop Alert can contact thousands of users with desktop alerts and require receipt confirmation of the message. Those not verified can then be listed on a report and/or sent as a "Target Package" to be automatically contacted by other means such as email, SMS, phone calls and other devices.