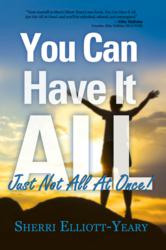 Treat yourself to Sherri Yeary's new book.You'll be refreshed, relaxed, and reenergized.

- Ebby Halliday, founder, Ebby Halliday, REALTORS
Dallas, Texas (PRWEB) July 17, 2012
"You Can Have It All, Just Not All At Once!" (Brown Books Publishing Group), by best-selling author and CEO of the human resource consulting firm Optimance Workforce Strategies, Sherri Elliott-Yeary of Plano, Texas, offers readers a refreshing and thought-provoking departure from the typical approach to "having it all."
Through a series of one-on-one interviews with thirty-five courageous and powerful women from all walks of life, Elliott-Yeary reveals inspirational stories that are sometimes painful, often hilarious, and always honest.
"You Can Have It All" will make you laugh, make you cry, and make you reflect on the importance of living life to fullest.
Readers will learn how to use the power of engagement to achieve big things and attain the life they desire.
Ebby Halliday, founder of Ebby Halliday, REALTORS, says, "Treat yourself to Sherri Elliott-Yeary's new book, "You Can Have It All," and you'll be refreshed, relaxed, and reenergized."
Elloitt-Yeary sends an encouraging message to all women, reminding them that they can live with uncompromising integrity and find balance and joy in their lives.
Texas State Legislator, Jodie Laubenberg calls "'You Can Have It All" a book about real women and the inward and outward challenges women struggle through each day just living life."
Clint Haggard, fifth generation, Haggard Family Advisors, adds, "I hope all women find their balance and joy in life through these pages."
Elliott-Yeary credits her favorite poem, "The Invitation," by Oriah Mountain Dreamer, as the driving force that challenged her to strive for a greater life.
She cites the song "Coming Home," from the movie "Country Strong" starring Gwyneth Paltrow, as the inspiration that gave her the confidence to share her innermost personal story with others.
"You Can Have It All," is dedicated to women who are purposely choosing to live an authentic and powerful life while trying to have it all.
To learn more visit http://www.RealWomenHavingItAll.com
Books are available at Amazon.com, Barnes and Noble, and through the website.
*A portion of proceeds from each book sold will benefit the Komen Foundation for Research.
About Brown Books Publishing Group:
"You Can Have It All, Just Not All At Once!" was published by Brown Books Publishing Group, a Texas-based independent publisher. For more information about the publisher, please go to http://www.BrownBooks.com.