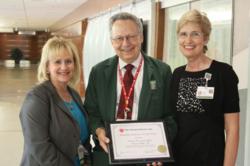 Arlington Heights, IL (PRWEB) July 05, 2012
Northwest Community Hospital (NCH) has been awarded "Regional Hospital of the Year" by the Mended Hearts organization for its ongoing support of the Mended Hearts visiting program in which volunteer community members meet with hospitalized heart patients and their families to offer encouragement and support.
"It's a privilege for the hospital to receive this award," said Bonnie DeGrande, director of NCH's Cardiovascular Services. "We are fortunate to have a group of compassionate community members who draw upon their personal heart care experiences to further educate and guide patients and families throughout the entire recovery process."
Mended Hearts is a national non-profit organization with a mission to inspire hope in heart disease patients and their families. The nine-state Midwest Region of Mended Hearts is comprised of 29 local chapters with 13 located in Illinois. NCH's close relationship with Mended Hearts dates back to 1993 when a local chapter was established in Arlington Heights. Ron Vlcek, who is President of the Arlington Heights chapter, said last year his members conducted more than 700 visits with NCH cardiac patients and families prior to and/or following a heart surgery or procedure.
Vlcek explained how NCH continually goes above and beyond in its support of this local Mended Hearts chapter. "The one thing we really appreciate is that the hospital prints and mails our newsletters," Vlcek said. "They provide us an office to work out of and to store our supplies, as well as a meeting room for our support group. It's phenomenal all the support they give us."
For both patients and their loved ones, a visit from a Mended Hearts member can bring an added level of comfort not only before a procedure, but also during recovery. The Mended Hearts visitors will draw upon their own personal heart care experiences to offer encouragement, advice and guidance. Patients also receive a "Path Pack" for the road to recovery – complete with educational materials intended to complement the resources already given to patients by the hospital.
Like NCH's Cardiovascular Services program, ongoing health education is a big component of Mended Hearts' efforts. In addition to visiting patients in the hospital, the Arlington Heights chapter hosts monthly member meetings at the hospital in which doctors and clinical specialists speak on a wide range of lifestyle and wellness topics geared toward patients, significant others and caregivers alike.
For Vlcek and the Mended Hearts members, the rewarding aspect of it all is that they're helping others. "It's the knowledge that we're able to help somebody and you can see how appreciative they are of our efforts. It just really makes you feel good," added Vlcek.