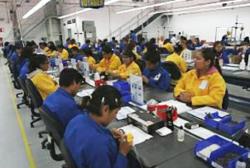 The operations labor force of Plantronics manufacturing in Tijuana is currently close to 3,000 employees. The new facilities will provide a 25% - 30% growth through the transfer of new production lines
(PRWEB) July 09, 2012
Plantronics Mexico manufacturing operations, an electronic components manufacturing company, celebrates this month 40 years anniversary of operating in Tijuana with a new investment of $30 million dollars in the construction of a new plant that is projected to incorporate the design, distribution and logistics center of their current operations.
The operations labor force of Plantronics Manufacturing in Tijuana is currently close to 3,000 employees. The new facilities will provide a 25% - 30% growth through the transfer of new production lines, according to Alejandro Bustamante Gutierrez, who was recently promoted from President for Plantronics Mexico to Global Operations Vice-president.
The plant, which will be located near Mesa de Otay Port of Entry, will e the first in Mexico to be supplied only through solar panels and is expected to begin operations in 2013.
About Co-Production International
Co-Production International is strategically headquartered in San Diego, CA and is the premiere Administrative Services Provider of the IMMEX (Shelter) Program in Baja California, Mexico.
We handle the complete set-up of your Mexico manufacturing operation and manage the day-to-day administrative duties allowing you to control and focus 100% on manufacturing. As your near-shore solution CPI offers several programs designed to successfully establish your operation; The Shelter Program, Independent Corporation and a menu of Administrative Services.
To learn more of how to Increase your bottom-line profits and ensure your competitive advantage through one of the most cost effective labor markets in the world, go to http://www.co-production.net or call us at (877) 230 7989.