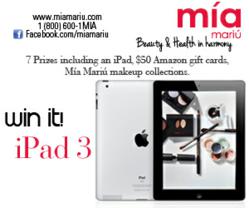 Dallas, Texas (PRWEB) July 07, 2012
Mia Mariu today announced their second social media promotion and contest. The promotion is a no purchase necessary contest that includes free prizes. The Grand Prize is an iPad with Wi-Fi 16GB (3rd Generation), your choice of Black or White with personalized engraving on the back ($499 Value) plus a Leather iPad Smart Cover, your color choice ($69 Value). Second prize is a Mia Mariu Cosmetic Collection ($100 Value) that includes a Mia Kabuki Brush, Mineral Bronzer, Hydrating Stick Gloss, Limited Edition Studio Pintel Pot, and a Mia Black Mascara. Third prize is a $50 Amazon Gift Card.
Individuals may enter the contest for free on Mia Mariu's Facebook page at http://www.facebook.com/miamariu. The promotion began on June 25, 2012 and runs through Sunday, July 15, 2012, with the winners beginning selected on Monday, July 16, 2012.
"Due to the overwhelming response from our last giveaway, we decided to do a summer promotion open to the general public so that they can get to know Mia Mariu and all that we have to offer," states Jeannie Price, Founder and CEO.
For complete details, please visit the Get to Know Mia Mariu iPad 3 Giveaway at miamariu.com/blog.
About Mia Mariu
Mia Mariu is beauty and health in harmony. Mia is social selling company based in Dallas, Texas. Mia offers a home-based social selling business opportunity that combines the power of ecommerce, social networking and personal service behind extraordinary natural health and beauty products. The Mia Mariu product line includes botanical skin care, mineral cosmetics, natural health supplements and fine fragrances. Mia's products are available for purchase via the Internet and from Independent Advisers. For additional information, please visit our website at http://www.miamariu.com. Contact us at 800-600-1642 or contactmia(at)miamariu(dot)com.