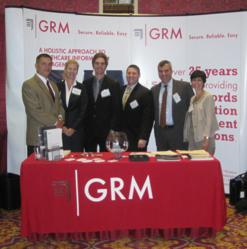 Jersey City, NJ (PRWEB) July 06, 2012
As a member of New Jersey Health Information Management Association (NJHIMA), GRM proudly exhibited at the NJHIMA Conference. GRM has four (4) document storage facilities within the NY Tri-State and Philadelphia areas offering highly personalized service. This event was the perfect opportunity to let the attendees know how significant our business expansion is. It's a great chance to interact with the new attendees to help this make a meaningful experience.
The facilities in the NY Tri-State and Philadelphia areas are high on security, and some of the facilities have a temperature and humidity - controlled data vault. Our state-of-the-art facilities are 100% committed to serving local area businesses. GRM provides comprehensive, lifecycle information management solutions.
With 25 years of experience, GRM brings proprietary innovation, blended integration and new levels of cost efficiency to document storage, data protection, digital/electronic document management and certified destruction. Our operations feature a strict adherence to PRECISIONplus barcode tracking, which ensures 100% accuracy and accountability of your stored assets. We maintain high-volume scanning/imaging capabilities, including a Scan-On-Request service that quickly converts select paper records to digital.
An important part of our EDM capability is the GRM Online Record Center. This Cloud-based, single, digital repository maintains electronic backup, compliance and continuous chain-of-custody tracking while facilitating the many benefits of workflow automation processes. As a SaaS system, the Online Record Center delivers quick deployment, customizable functionality and a rapid Return on Investment. Additionally, for legal firms, GRM facilitates eDiscovery through the use of OCR/ICR technologies that allow multiple documents to be searched simultaneously.
Our growing network of facilities serves Los Angeles, San Francisco, New York, Philadelphia, Washington D.C., Atlanta, Miami, Chicago, Houston, Boston, Baltimore, and China. For more information, visit the GRM web site at http://www.grmdocumentmanagement.com.