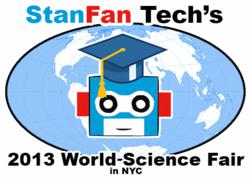 Win Or Lose Everybody Comes Out A Winner.
New York, NY (PRWEB) July 09, 2012
Ever discovered something through experimentation and wanted the whole world to see? If so the opportunity is here, more than 100 of the best science projects around the globe will be selected to compete in StanFan Tech's 2013 World Science Fair Competition. This event will be live streamed around the world. If one has what it takes to compete against some of the greatest minds in the world then apply to join this one of a kind event .
When asked why did he and his company want to host a Science Fair, President of StanFan Tech David Holmes said, "Fresh technology is at a stand still. Innovation is not what it used to be, science and tech companies are now resorting to patent trolling or coping each other's features when they should be innovating new ones. This Science Fair is going to be a breath of fresh air to all the hardworking scientist, hackers, and young entrepreneurs with a dream to be able to show their hard work off to the world and gain the recognition and respect they deserve."
Each contestant will be featured in StanFan Tech's newsletter, blog and website which will help give the contestants and their projects exposure. This will be a great event to network, there will be a ton of giveaways and all applicants will be featured on StanFan Tech's website after the competition is over. This will help promote every applicant and their projects weather they was accepted to compete in the competition or not. Win or lose everybody comes out a winner.
Top Place Prizes
1st place wins StanFan Tech's Scientist of the Year trophy along with a brand new Apple MacBook and other great giveaways.
2nd place wins StanFan Tech's Runner Up Scientist of the year Sliver medallion along with a brand new Apple iPad and other great giveaways.
3rd place wins StanFan Tech's Top 3 Scientist of the year award along with a brand new Apple iPod Touch and other great giveaways.
Requirements
*Must be over 13 years old to apply
*All contestants must abide by StanFan Tech's rules found at it's website @ https://www.stanfantech.com/#rules
*All projects must follow the scientific method
*Application due date is September 10th 2012
*Acceptance letters will be sent October 2012
*Eliminations begin January 2013
*Application Fee is only $40 and is payable by credit card, check or money order
*Cannot travel to the main event in NYC ?e-mail admin(at)stanfantech(dot)com and they will help work something out.
To apply please visit http://www.stanfantech.com
For all sponsorship inquires please visit http://www.stanfantech.com/#sponsorship
For all media request or questions please email dholmes1031(at)stanfantech(dot)com