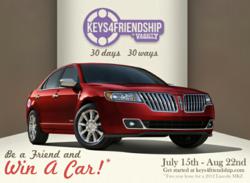 30 days, 30 ways, Be a friend and win a car!
West Bloomfield, Michigan (PRWEB) July 09, 2012
Keys4Friendship is a five week long campaign that will spread the message of friendship throughout Metro Detroit and give a car to a lucky winner. Starting July 15th and ending August 17th residents of Michigan will be able to participate in Friendship Challenges with 30 people being awarded a winning key.
On August 21st the 30 key winners will gather at Friendship Circle from 6 p.m.-8 p.m. and one by one, until there is a winner, will try their key in the ignition of a 2012 Lincoln MKZ. Only one key will start the engine and that lucky person will be declared the winner of a two-year lease of the vehicle.
With three challenge opportunities combined -- a volunteer challenge, a story of friendship challenge and a magnet spotting challenge -- there are 30 ways to win in 30 days.
To learn more and participate visit http://www.keys4friendship.com
Friendship Circle is a non-profit organization dedicated to providing support, programs and friendship to children with special needs and their families.
Friendship Circle serves over 3,000 students with special needs, over 200 schools participate in Friendship Circle's lessons for life program which teaches crucial life skills to children and teens with special needs. Over 500 teens volunteer annually providing support and friendship for a child with special needs.
To learn more visit http://www.friendshipcircle.org