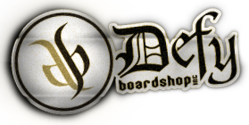 Now Home Of The World's Best Brands
Corona, CA (PRWEB) July 07, 2012
From its inception in 2003, Defy Boardshop has been considered one of the elite skate shops in Southern California. They have strived to provide the best shopping experience and assure world class customer care. They started their first location in Corona, California & have contributed their success in maintaining the best customer service in the industry while carrying all the World's best brands.
Defy Boardshop sells skate shoes, clothing, accessories, and skateboarding products. The shop has an abundant collection of the top skate and street wear brands like:Diamond Supply Co, Obey Clothing, The Hundreds, Crooks & Castles, Fourstar, Primitive, Volcom, LRG, Matix, Kr3w, RVCA, Stussy, Nixon, G-Shock, Girl, Chocolate, Deathwish, Baker, Adidas, Nike SB, Converse, Vans, Fallen, Emerica, Lakai, DC, Toms and much more.
Apart from selling skate/street wear brands, Defy has a great selection of the best brands in sunglasses like; Ray-ban, Spy, Electric, Dragon, Oakley, Von Zipper…etc. Similarly Defy has top branded clothing, hats, footwear and other accessories. Defy Boardshop is maintaining an informative/vibrant website to provide sales & services with more of a friendly process. DefyBoardshop.com is providing all the information about their products, brands, and services.
Defy has never failed to be in the forefront of the industry, offering the best selection of merchandise & customer service. Apart from their retail store, Defy Boardshop is providing the most secure, reliable online store and assures a fast deliverance of purchases. Defy Boardshop takes pride in presenting the finest quality of products and service in the industry. Defy Boardshop offers a 30-day money back guarantee, with free shipping on orders over $75 and a $5.00 flat shipping rate for orders under $75.
With new brands and styles arriving regularly, Defy Boardshop is dedicated to carrying all of the latest merchandise and trends. Customers review's show that consumers are very satisfied with Defy's products and service. The team at Defy strives for excellence while providing the best products in the industry with quality and durability.
This board shop provides high quality products and service with a normal rate that is widely accepted by their customers. International customers also enjoy shopping with Defy Boardshop because they are being assured with the best service in the industry. Meanwhile customers can relax while having the pleasure of shopping in a peaceful environment.