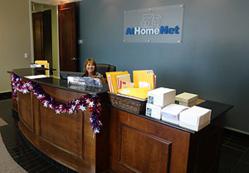 Duluth, GA (PRWEB) July 06, 2012
Duluth, GA - AtHomeNet, Inc., a provider of web-based services for homeowner associations and community management firms relocated to their new offices, Monday, July 2nd in northeast Atlanta. The firm began in 1998 and has steadily expanded staff and added new services over the years.
To continue to exceed expectations for their growing family of loyal customers, AtHomeNet's pioneering owners have relocated the office seven times. This most recent move signifies the opening of an exciting new chapter in the history of the company, allowing for continued growth of a business that is known for a diverse offering of services centered around their user-friendly community website technology.
"We knew we needed to find a significantly larger facility for expansion of all our departments," commented Jeff Sanders, President and Director of Technology. "In addition to having double the square footage in our new building, we are also excited about being able to take advantage of the access control technology that we now offer our clients. The entry access system our employees use at the new office is the same Visitor Management application we offer through our FrontDesk Services, which allows condominiums to monitor access of owners and guests to their building through their association web site."
With a growing national reputation and spacious new offices, AtHomeNet has set the foundation for expansion of their state-of- the-art web services in the years to come.
A Grand Opening Ceremony and Ribbon Cutting with the Mayor of Duluth will take place on Monday, July 16th from 4 to 7pm at AtHomeNet's new headquarters located at 3550 Corporate Parkway, Suite C, Duluth, GA. Family, friends, and clients are invited to join all the staff for a tour and refreshments to help celebrate this new beginning.
AtHomeNet® is the nation's premier provider of customized, affordable websites for communities and Professional Association Management Firms. The company was founded in 1998 by Jeff and Susan Sanders. With their HOA websites now being used in over 2 million homes in 8 countries, AtHomeNet continues to grow as a company and enhance their services in the ever expanding world of online technology.
For more information on AtHomeNet please visit http://www.AtHomeNet.com or contact Marketing@AtHomeNet.com or call 1-800-556-7852