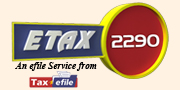 Etax2290 deliver a new mobile application for filing Form 2290
(PRWEB) July 05, 2012
Tax2efile is going where no other e-file company has gone before, strait to the mobile market. Tax2efile as a parent company of Etax2290 has just finished designing a new and easy to use mobile filing solution allowing users to e-file Form 2290 right from a cell phone or tablet device. That means the truckers everywhere can pull over or make a pit stop and e-file Form 2290 without ever having to open up a laptop or search for a Wi-Fi connection. Of course don't attempt to e-file while driving as the safety of filers everywhere is very important to Etax2290 and safe driving is very important.
This new and user friendly mobile application is scheduled to be available for download within the next few days but don't let that stop anyone from gathering information or preparing to file Form 2290. Tax2efile has always remained at the fore front of the e-filing world but with this new mobile app, Tax2efile is soon to be a household name across the country. The application itself is designed to gather key information from the user such as, name, phone number, VIN number, vehicle weight and tax category. After inputting all of the necessary information the user will then submit and Etax2290 will get notification of a new filer. This is where great customer service really shines through. Etax2290 has created a team of individuals solely to assist mobile filers and upon receipt of a filer's information a representative will contact the user via telephone and complete the filing process. Payment information and business information will be collected and input over the phone with a live person and Form 2290 will be submitted within minutes, but the process doesn't end there. Shortly after the final submission users can expect a Stamped Schedule 1 to be emailed directly to them and a Text alert will be sent simultaneously notifying the user that the Stamped Schedule 1 is ready.
Tax2efile & Etax2290 take pride in delivering all customer and the absolute best experience in e-filing, after all dealing with the IRS is no easy task but Etax2290 is here to lighten the load and take the stress our of dealing with the IRS.