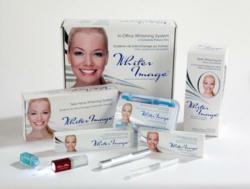 ...this program encourages visits to the dentist as well as a relationship to be built beyond oral health.
Atlanta, GA (PRWEB) July 09, 2012
Whiter Image Dental of Atlanta, Georgia is launching an innovative new teeth whitening initiative designed to help dental offices encourage their patients to maintain their regularly scheduled visits. Studies have shown that a patient is less likely to cancel or no-show their dental visit if there is an incentive to follow-through with their visit beyond the professional cleaning and exam they are accustomed to. As teeth whitening is the most sought after cosmetic enhancement on the market Whiter Image has made the incentive of getting a teeth whitening part of the regularly scheduled process.
This initiative, called the Smile Maintenance Program, coincides with the patient's prophylaxis (6 month cleaning) appointments, yet provides the added benefit of a teeth whitening program that results in fewer cancelations or no-shows. As most patients know the aesthetic benefit of teeth whitening, this program encourages visits to the dentist as well as a relationship to be built beyond oral health. The end result is increased patient satisfaction and increases in whitening cases.
The Smile Maintenance Program begins with the patient coming in for a routine checkup and cleaning. The patient is advised of the Smile Maintenance Program where they are instructed of the benefits of a scheduled teeth cleaning and whitening that coincides with the regularly scheduled visits. If a patient decides the Smile Maintenance Program is a good fit, they are fitted for custom whitening trays immediately after their routine checkup and cleaning. A follow-up appointment is then scheduled for the tray fitting and at-home whitening instructions. Before the patient leaves, they are advised of what they need to do in order to stay in compliance with the program, and continue to receive an additional supply of whitening gel. "As a dentist, you need to look for a company to partner with that creates value for your practice, and what Whiter Image Dental has done is establish that partnership with you by assigning you a dedicated marketing consultant who will help you increase whitening in your practice and ultimately, the bottom line!" -- David Hornbrook -- DDS, FAACD.
The Smile Maintenance Program is really a win-win for the dentists and the patients, as both benefit from the teeth whitening arrangement. The patient gains from the pre-appointed cleaning and whitening appointments where they will actually look forward to their visit based on the statistics that show the follow-through of patients and teeth whitening appointments. The dentist benefits from patients who do not cancel their appointments meaning better time-management and fewer gaps in their schedules as well as increased profit through additional services.
Each Whiter Image Dental client is provided with a Personal Marketing Consultant at no additional charge, who helps them with their marketing efforts. This is part of Whiter Image's dedication to a partnership where they are committed to having a vested interest in success of each of their clients.
To learn more about the Whiter Image Dental Smile Maintenance Program contact them at 1-877-944-8330 or online at http://www.whiterimagedental.com.