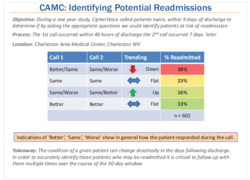 The results from this CAMC study show that with a multi-call program you can identify additional patients at risk of readmission who previous would have fallen through the cracks
New York, NY (PRWEB) July 09, 2012
A recent study analyzing congestive heart failure (CHF) patients at Charleston Area Medical Center (CAMC) found that responses to a series of automated follow up calls could accurately identify patients with elevated risk of readmission. The study, conducted by CipherHealth, reviewed one year of responses to a multi-call follow-up program for 602 discharged patients and was able to identify patient groups that were 65% more likely to be readmitted than the cohort average.
In the study, discharged patients received two calls, one within 48 hours of discharge and a second call seven days later. Patients who responded positively to both calls had a readmission rate of just 13%. Patients who showed a negative trend (for example, responding positively on the first call and neutral or negative on the second call) had a 38% risk of readmission, almost three times as high as the positive responders.
"Hospitals typically aggregate a number of different risk factors and metrics to determine which patients are at the highest risk for readmission. However, these same hospitals don't have visibility into the changing conditions of their patients after they've left the hospital. The results from this CAMC study show that with a multi-call program you can identify additional patients at risk of readmission who previous would have fallen through the cracks." says Alex Hejnosz, an executive at CipherHealth who helped design the study.
In a country where nearly one in four CHF patients are readmitted to a hospital within 30 days of discharge, the implications of this study are profound. As health care costs continue to rise, hospitals are constantly looking to adopt cost-effective, evidence-based solutions to help improve patient outcomes. This analysis shows that an automated follow-up call program can allow a hospital to effectively triage patients, enabling high-touch intervention and care for those at the highest risk.
About CipherHealth, LLC
Founded in New York in 2009, CipherHealth™ LLC provides improved care coordination and patient engagement through post discharge follow-up programs helping healthcare organizations reduce 30-day readmissions and increase patient satisfaction.
Requests for CipherHealth data and study information should be made to Alex Hejnosz (Alex(at)cipherhealth(dot)com).