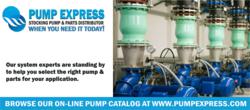 Pump Express's new interactive website effectively backs up an encyclopedic listing of pumps by major manufacturers with a team of expert application engineers standing by to custom-size every on-line purchase.
Paramus, New Jersey (PRWEB) July 13, 2012
Dotcomweavers recently overhauled pumpexpress.com, the on-line home of Pump Express, a New Jersey-based distributor of commercial and industrial pumps and pump parts, so that the company might better serve the market for precision industrial, commercial and residential pumping equipment.
Site improvements include an illustrated catalog of pumps and parts supported by manuals and performance charts, and Live Chat windows staffed by a team of pump experts. The remade site is characterized by user-friendliness and enhanced interactivity, key elements in connecting pump buyers to the product and sizing information necessary to choose appropriate pumping equipment.
"Until recently, a contractor or maintenance manager looking to replace a failed Armstrong pump basically had two options," says Pump Express Sales Manager Fred Hettinger. "He could go to a generic supply house and deal with a counterman who had little or no experience with the application the pump would be used in, or he could select and size an Armstrong pump to the best of his ability, order it from his local supply house and hope for the best."
Both methods lacked the preciseness and expertise necessary to effectively configure a pump for a hydronic system, says Hettinger. The result was often wasted time and resources. "Pump Express fills the gap between manufacturer and product with a team of pump specialists who expertly guide customers through the process of selecting and sizing the best possible pump to suit their needs." Dotcomweaver's site makeover was undertaken with an eye toward maximizing pumpexpress.com's clarity, interactivity and user-friendliness.
"In addition to serving as a portal to an extensive inventory of quality pumps and pump parts from Armstrong, Barnes, Bell & Gossett, Berkeley, BJM, Blue Angel, Crane, Federal, Goulds, Grundfos, Hartell, Hydromatic, Laing, Liberty, Little Giant, Lutz-Jesco, Myers, Paco, Pro Series, Rotech, Sta-Rite, Taco, Weinman, Wilo and Zoeller, we see the new website building confidence in our brand," says General Manager Ed Drejman.
"Pumpexpress.com acts as our help desk, sales counter and check-out. These areas require a lot of square footage in the real world so devoting comparable resources to our digital space makes sense as we strive to address the new commercial landscape in relevant and effective ways."
Foregoing costly retail space in favor of e-marketing directly through social media tools and display advertising built into the new site enables Pump Express to undercut large retailers with an interactive Lowest Price Guarantee -- any buyer who can document a lower price on a purchased item within 30 days receives a $110% refund on the difference.
About Dotcomweavers
Dotcomweavers is a New Jersey based web design and development company focusing on advancements in internet technology to provide attentive service and cutting edge web solutions; website development, website design, eCommerce and internet marketing (SEO).