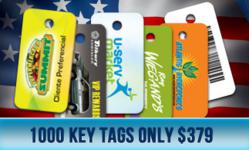 (PRWEB) July 05, 2012
For a limited time, CardPrinting.US is taking an easy and simple approach to ordering key tags. From July 2nd until 12 noon on July 10th, CardPrinting.US is offering 1000 custom printed plastic key tags for the single price of $379. CardPrinting.us is determined to keep the ordering process simple. This sale waives most of the upcharges associated with custom plastic printing orders. It does not matter if the key tag has one additional feature such as numbering, or a bar code, or full color printing on both sides -- or all of these features. It is one simple and straightforward price of $379. It is also noted that it is below the minimum order of 1500 key tags, so if a loyalty program involving a key tag is being considered, now is the time to act.
Key Tags are versatile, they are practical indicating membership into a savings or loyalty club, but even more importantly is their portable branding. Nearly everyone can look at their key ring, and chances are that you have three or four key tags hanging down from it right now!
Businesses will experience many benefits from just producing as little as 1,000 key tags – your business information hanging from the key rings of 1000 current or new customers. This is a perfect opportunity to purchase key tags for your new customer loyalty program and get those custom plastic key tags at a very good price.
Here's one example of how one customer loyalty club operates: A customer purchases goods or a service from your business. When checking out, the customer presents their key tag to be scanned in, registering the total amount of purchases they've made for a certain period. If they reach a certain level, they receive a discount or level of benefit. Those discounts and incentives can increase with the amount of purchases made.
This offer is one of those "now or never" offers -- go ahead with it and you will not regret it.
An offer this good must have some minimal restrictions. Orders must be prepaid and placed online at http://www.cardprinting.us/1000-key-tags.html before 12 noon EST on July 10th, 2012. Customers may place a single order only with this special pricing, and the discount code 1000KT379 must be used when ordering. The offer will not be extended. Key tags are shipped in a 3-up matrix. Individuals key tags are detached easily from that matrix.
Take advantage of this incredible savings with one click, by going to http://www.cardprinting.us/1000-key-tags.html .
Card-Printing.US is a part of the Tele-Pak Inc. family of web sites for plastic printing needs. Tele-Pak Inc. is located in Monsey, NY has been a worldwide leader in the plastic printing industry since 1996, producing all kinds of plastic cards: gift cards, plastic key tags, scratch cards, phone cards, fundraising cards, membership cards and point of sale activation (POSA) cards. Corporate information can be found at http://www.tele-pak.com.