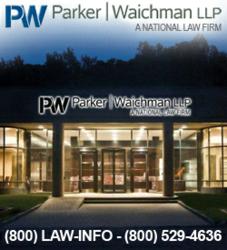 (PRWEB) July 06, 2012
Parker Waichman LLP, a national law firm dedicated to protecting the rights of victims injured by defective medical devices, is alerting the public to a recall by Stryker Orthopaedics. According to its website, the company is voluntarily recalling the Rejuvenate Modular and ABG II modular-neck hip stems over fears that the metal-on-metal hip components increase the risk of corrosion and subsequent tissue damage.
The use of modular necks was intended to allow greater technical precision when operating on artificial hip recipients, according to clinical information funded by Stryker. However, the risk of metal corrosion linked to such devices has called their safety into question. Stryker has voluntarily recalled the modular neck hip stems "because there is a potential for fretting and corrosion at the modular neck junction which may lead to adverse local tissue reactions." These complications may manifest as pain and/or swelling in patients, the company stated on their website. [aboutstryker.com/modularneckstems/]
The U.S. Food and Drug Administration's (FDA's) MAUDE Adverse Event Report System has documented several reports that link the recalled products to various side effects. One report, for instance, cites a patient who experienced "potential metal sensitivity to the rejuvenate modular stem/neck." Another patient, implanted with the ABG II Modular short neck, required revision surgery due to pain.
This is not Stryker's first recall over metal-on-metal hips. In April, the company recalled the Accolade femoral stem used in conjunction with the MITCH TRH modular head/acetabular cup, due to significantly high revision rates. [medsafe.govt.nz/hot/RecallActionNoticesNew/StrykerMitchHRModularHeadAndacetabularCup.asp]
Stryker's recall is representative of the safety concerns involved with all metal-on-metal hip replacement systems. The implants use all -metal components, which can release metal ions when they rub together. The devices have been linked to high failure rates, pseudotumors, metallosis, bone loss, soft tissue reactions and other complications.
In February, the British Medical Journal published a report warning that metal hip recipients may be exposed to dangerously high levels of metal ions. The following month, The Lancet published a study showing that all-metal hips fail at a rate of 6 percent, as opposed to the 1.7 to 2.3 percent observed in other types of implants. These findings prompted the authors to call an end to their use.
[bmj.com/content/344/bmj.e1410; thelancet.com/journals/lancet/article/PIIS0140-6736%2812%2960353-5/abstract]
In May, the Journal of Arthroplasty published a study showing that metal-on-metal implants corrode faster than metal-on-polyethylene. Most recently, a study published in Chemical Communications found possible evidence of genotoxicity in metal hip patients who experienced inflammation and subsequent revision surgery. [arthroplastyjournal.org/article/S0883-5403%2812%2900175-1/abstract ; pubs.rsc.org/en/content/articlelanding/2012/cc/c2cc33016d]
Last week, the FDA's Orthopaedic and Rehabilitation Devices Panel held a two-day meeting to discuss metal-on-metal implants. The panel advised X-rays, MRIs and CT scans to detect abnormalities, and possibly blood testing for metal ions. Last May, the agency asked manufacturers to conduct post-market studies to assess the impact of metal ions on metal hip patients. However, it appears that only a quarter of these studies have been approved.
Parker Waichman LLP continues to offer free legal consultations to victims of metal-on-metal hip implant injuries. If you or a loved experienced premature failure of your implant or other health problems associated with metal-on-metal hip replacement devices, please contact their office by visiting the firm's defective hip implant website. Free case evaluations are also available by calling 1 800 LAW INFO (1-800-529-4636).
For more information regarding defective hip implant lawsuits and Parker Waichman LLP, please visit: yourlawyer.com or call 1-800-LAW-INFO (1-800-529-4636).
Contact: Parker Waichman LLP
Gary Falkowitz, Managing Attorney
(800) LAW-INFO
(800) 529-4636
yourlawyer.com