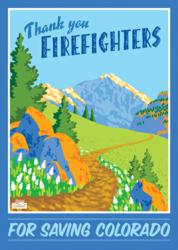 During the 2010 Fourmile Fire in Boulder, our community raised over $11k from poster sales for firefighters. With Card Gnome involved, we're doing a lot to give back while letting people personally connect with firefighters.
- Steve Lowtwait
Boulder, CO (PRWEB) July 09, 2012
With wildfires threatening Colorado, a Boulder based greeting card company, Card Gnome, has taken action to give back. Card Gnome has launched a fundraiser that enables consumers, both local and across the country, to purchase a commemorative thank you poster expressing gratitude for firefighters, and simultaneously send an accompanying thank you card to firefighters. The posters and greeting cards come in one of four designs created by Boulder artist, Steve Lowtwait: Waldo Canyon Fire, High Park Fire, Flagstaff Fire or Thank You For Saving Colorado. The cards will be mailed to one of three local volunteer firefighter organizations, Boulder County Firefighters Association, Colorado Springs Fire Department, or the Poudre Canyon Volunteer Fire Department, dependent on the respective wildfire. Card Gnome has pledged all proceeds from sales of firefighter cards/posters to these firefighter associations. It's a unique a way for anyone to say thanks and give back. Local businesses in Colorado Springs, Boulder and Fort Collins have been showing their support for the firefighters, and this fundraiser, by placing these thank you posters in their front windows.
All Card Gnome greeting cards can be personalized online. Consumers can enter their personal message of gratitude to the firefighters and Card Gnome will mail the cards. The commemorative posters will be printed and shipped to donors in mid-July.
Card Gnome is an e-commerce print-on-demand greeting card company that offers patrons a way to find the perfect connection – for any occasion. Card Gnome was founded with the primary goal of helping people express their love and gratitude toward one another. Right now, the community needs to send that love, and financial support, to the Colorado firefighters risking their lives to protect people's homes and beautiful mountain parks.