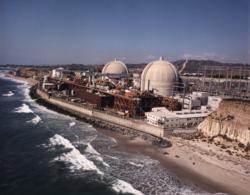 Living in San Diego we have an abundance of sunshine so naturally, we should be harnessing the power of the sun now, when it shines the brightest and we need it the most.
San Diego, CA (PRWEB) July 05, 2012
The San Onofre Nuclear Generating Stations that was turned offline in January 2012 due to premature wear on tubes and it is estimated to remain dark through August. Local solar design and installation company, Sullivan Solar Power, has sparked a solar energy initiative to help our region produce clean, renewable solar-powered energy.
The San Onofre power plant is the region's largest power source with 2,200 megawatts of output. California's Independent System Operator (ISO) expects between what has been developed with solar and wind in the past twelve months and what will be developed in the coming year, we will add over 2,300 megawatts of power to the grid. Sullivan Solar Power advocates that the need for San Onofre's power plant becomes obsolete as the community transitions to solar power.
To spur renewable energy growth on the local grid, Sullivan Solar Power launched the San Diego Solar Program, a cash-back solar program that has been highly subscribed to. The program allows residents to go solar for $0 down and receive a payment, up to $1500. Homeowners in San Diego are getting paid to go solar with the program that offers an additional monetary incentive on top of the Federal tax credit and State rebate. Sullivan Solar Power, the top residential solar installation in San Diego Gas and Electric's territory, has worked tirelessly to deploy residential and commercial solar power to make up for the loss from the nuclear plant.
"We have created the San Diego Solar Program to offer an energy solution cheaper than the utility. Not only are program participants saving money and helping our region meet our energy demands, they are getting paid to do so," said Sullivan Solar Power founder and president, Daniel Sullivan.
San Diego is the number one solar city in the state and nation for both number of rooftops and capacity installed, and Sullivan argues that the need for nuclear power is easily replaceable with renewable energy. Thanks to the thousands of solar producers in our region, the closing of San Onofre hasn't caused blackouts in Southern California.
"Living in San Diego we have an abundance of sunshine so naturally, we should be harnessing the power of the sun now, when it shines the brightest and we need it the most," said Sullivan.
To learn more about declaring energy independence, a free San Diego Solar Program informational solar breakfast is taking place this Saturday, July 7, at 11 a.m. at the Carlsbad City Library (1775 Dove Ln., Carlsbad, 92011). The one-hour seminar will cover solar technologies, rebates and incentives, local case studies and the San Diego Solar Program. Call 1-800-SULLIVAN to RSVP or for additional information.
About Sullivan Solar Power
Sullivan Solar Power is a turnkey solar system provider that delivers solar electric projects from concept to completion. The company has installed over 10,000,000 watts of solar power ranging from small-scale residential to large-scale commercial and municipal systems. Sullivan Solar Power is headquartered in San Diego, CA and owned and operated by Dan Sullivan. Sullivan Solar Power has a longstanding A-plus rating with the Better Business Bureau, with no complaints filed since the business began and was awarded San Diego's Small Business of the Year 2012. The firm has been named one of the fastest growing energy firms in the nation by Inc. Magazine and services all of Southern California. Regardless of project size and scope, Sullivan is committed to delivering the best products and the most qualified professionals to its customers. Visit sullivansolarpower.com for more information.