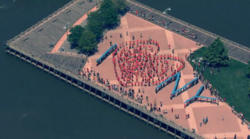 Vancouver, BC (PRWEB) July 05, 2012
This past Saturday June 30, UrtheCast — the company bringing you the world's first HD Earth video platform from space — teamed up with Flash Mobs of America to hold a one-of-a-kind flash event in celebration of Mashable's third annual Social Media Day. To raise awareness of the the UrtheCast platform and UrtheCast's dynamic social media community, UrtheCast headed to the East coast to deliver its social media message in the most populace city in the U.S.! As the footage shows, UrtheCAST NYC proved to be a thrilling event — one that is now being considered for entry into the Guinness Book of World Records for having formed the world's largest ever hashtag.
At 1:00 PM, close to 500 UrtheCAST participants were filmed via helicopter for 11 minutes, while dancing in unison and forming several social media symbols. Music and dance weren't the only things keeping Hudson River Park tourists intrigued; with giant strips of ribbon, our UrtheCASTers created an enormous hashtag, the @ symbol, and the indispensable 'I ❤ NYC' sign. You can check out the helicopter footage at http://www.urthecast.com/urthecast.
"We were beyond excited to bring our second UrtheCAST to New York City. We were also excited to have publications like Mashable present for the event. This is the second time they've covered an UrtheCAST flash event," says UrtheCast President, Scott Larson. "At UrtheCast, social media is inherent in everything we do, and it will continue to be integral to the development of the platform, at all levels. It's why we started the rolling out our social media campaign so early in the UrtheCast lifespan, with everything from Twitter, to Facebook, the blog, Instagram, etc."
The UrtheCast cameras — one medium and one high-resolution — are scheduled for launch to the ISS in late 2012 aboard the Russian Soyuz Mission. Once mounted by ISS astronauts, the cameras will stream near-live video and static imagery to Earth and will provide extraordinary opportunities to view Earth in HD, for free.
When the UrtheCast cameras go live in early 2013, the platform will not only be fully interactive, but will remain open-source, allowing users to create applications for sale on the UrtheCast website. The opportunity to create awareness of current events across the globe will be paramount; as the Space Station passes over a particular geographic location, video data and imagery will be collected of that area. This data will downlinked to ground stations on Earth, and streamed to the web and user smart phones, for free. As another layer of interactivity, users will be able to track the Space Station along its orbital path, allowing users to schedule large-scale events, like weddings, around its location.
UrtheCAST NYC marks the second surprise installment of the UrtheCAST flash event series — a series that may bring UrtheCast to a city near you, so stay tuned over the next few months! In the meantime, UrtheCast's interactive platform will be made available for beta testing in Summer 2012. To become a beta subscriber, please visit urthecast.com.
About UrtheCast
UrtheCast (pronounced "EarthCast") is a company created around a unique vision: to provide the world's first live HD video feed of Earth from space. Working with renown aerospace partners from across the globe, UrtheCast is building, launching, installing, and operating two cameras on the Russian segment of the International Space Station. Earth video data collected by the cameras will be downlinked to ground stations around the planet and then displayed in near-realtime on the UrtheCast web platform, or distributed directly to exclusive partners and customers. UrtheCast will provide this interactive platform and HD Earth video data for internet users, app developers, educators, media outlets, government bodies, humanitarian relief organizations, and environmental monitoring services.
For further information and interviews please contact:
Erika Racicot Business Instincts Group
403-993-7292
erika(at)businessinstincts(dot)ca
Follow us on Twitter @UrtheCast
Visit us on Facebook