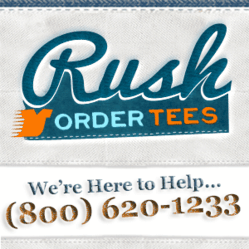 Since it's founding Rush Order Tees has expanded its product offering beyond custom t-shirts
Philadelphia, PA (PRWEB) July 06, 2012
As a buyer's guide for custom t-shirts and screen printed shirts, Rush Order Tees offers these 5 "good to knows" in the form of questions to ask before you design custom t-shirts with any provider.
1. Shipping Charges
Printers of custom shirts often charge hefty shipping fees, even on bulk orders. Rush Order Tees provides free shipping nationwide via UPS Ground.
2. On-Time Delivery Guarantee
Some online custom t-shirts companies are only a middle-man with an online presence but no printing equipment. They take your order and then subcontract the production of your shirt to a real printing company. There is plenty of room for delays and back-orders with this process.
3. Extra Fees and/or Taxes
Many custom apparel companies charge custom color fees, design fees, and/or handling fees. These "hidden fees" can add up quickly. Rush Order Tees does not charge fees of any kind.
4. Image File-Types Accepted
It's common practice amongst custom shirt printers to only accept and work with "vector" images as opposed to common digital photos and other image files. Rush Order Tees' team of in-house designers will help make your vision a reality with any file format you have.
5. Optimizing Image & Text Placement
Not only do the designers work with any file format you have, they optimize it for printing... on your specific custom shirt. That means they take into account, the fabric, the size, the color of the item, the colors in the design... everything. They also review every order and send you a proof so you're in control of quality.
Contact Rush Order Tees at 1 (800) 620-1233
--
About Rush Order Tees
Rush Order Tees has been in business for over 10 years.
Since it's founding Rush Order Tees has expanded its product offering beyond custom t-shirts to include a large sports, academic, industrial and business offerings including company logo polos, custom business shirts, custom uniforms, custom team jerseys, custom printed hats, custom printed sweats, custom college shirts, school jerseys, custom totes, custom aprons, and more.
Rush Order Tees acquired a 15,000 SF facility in Philadelphia, PA which they equipped with over 20 of the highest quality screen printers, digital printers, exposure units, heaters, and more.
Offering free nationwide shipping, an industry-leading low price guarantee, excellent service, value and quality has yielded overwhelmingly positive online rating and reviews across leading sites like Google, Superpages, YP.com, and the Better Business Bureau where they hold a certified A+ BBB Rating. Built on repeat business and referrals from satisfied customers, Rush Order Tees has grown to be a major leader in the custom shirt printing industry.
Contact Rush Order Tees at 1 (800) 620-1233