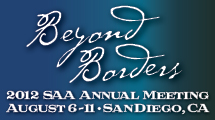 Stop by Booth 205 to learn about enterprise physical records management software
Kensington, MD (PRWEB) July 12, 2012
Today, Infolinx System Solutions, a leading provider of enterprise physical records management software, announced that they would be exhibiting at the 76th Annual Society of American Archivists (SAA) premier education event of the year. Beyond Borders: San Diego 2012 is a great opportunity to meet, learn, grown and collaborate in the company of colleagues in archives and other information fields.
Infolinx has been providing full life cycle management of physical records for the Library of Virginia, York County Archives, Missouri Records Management Division, and the Iowa Department of Administrative Services, , as well as many other clients with extensive inactive and archival collections. Solution benefits include a single relational repository managing donors, accessions, and records, physical tracking of records from point of inception, robust retention schedule and legal citation support, and integrated thesaurus.
Please stop by booth 205 for further information on archival record management.
About Infolinx
Infolinx System Solutions is a leading provider of DoD5015.2-certified enterprise physical records management software. Full life cycle records management for records centers and file rooms includes integrated Enterprise Content Management, robust searching, online requesting, complete audit history, location reconciliation, supply item ordering, retention schedule and legal holds management, integrated RFID technology, space management with charge-back functionality, extensive reporting capability, advanced security configuration, workflow email notifications, and legacy data sharing. Infolinx maintains clients within all major business segments and the public sector. Visit Infolinx System Solutions for additional information.