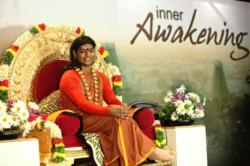 Inner Awakening Program itself is an Introduction to Life.
Los Angeles, CA (PRWEB) July 06, 2012
Paramahamsa Nithyananda said, "I welcome you all with my love and respects. Introducing the Inner Awakening program is literally impossible because till the last moment of the program, continuously you will be getting introduced to life. This program itself is an introduction to life. This whole thing is a transformation process.
Like a doctor or an engineer introducing himself as a doctor or an engineer, I will give a factual introduction about me in 2-3 lines. Anybody who is capable of transmitting the enlightenment experience they had, is called an incarnation. With this definition, I am very definite and I am very clear, I am an Incarnation to transmit the enlightenment experience.
I had the experience at the age 12 and I discovered my capacity to transmit that experience to others at the age 22. This whole program is nothing but helping you to discover your enlightenment experience with conscious explosion and transmitting this experience to you through awakening the Kundalini energy.
In the last 5-6 Inner Awakening programs, we were spending more time and energy on scientific studies. I am only an organizer, not inventor. I have not invented any of these methods and practices you are going to do in these 21 days. I only collected everything from the different sacred scriptures of the Hindu Tradition, the Vedic tradition and presenting it to all of you in an organized way. Of course, I have experienced everything that I am sharing as my own personal experience. So, you can go through the whole program in a completely relaxed way.
Your body will be prepared through heavy yoga and pancha kriyas. Your mind will be prepared by the sacred truths and sacred secrets about life and every problem you faced, facing or may face. Above all, your consciousness will be purified and awakened every day by initiation. You will have 21 energy darshans to awaken your kundalini energy, helping you to experience higher consciousness, liberating you from many of the conditionings and patterns with which you are struggling or suffering.
Through various kriyas your body will be continuously healed from various disorders and restrictions. I define yogic body as body with energy, stamina, physique and power. Every day you will go through pancha kriyas - five cleansing methods (for eyes, mouth, nose, throat, intestine) as per the Ayurveda to clean and heal the system to cooperate with this spiritual transformation process. The qualified experienced Siddha doctors will teach you.
Please understand this process is not just touching your conscious mind or unconscious mind. It is going to the level of your very DNA itself. Your very bio-memory gets transformed. To tell you honestly, I don't believe your mind.
I trust only your body. So the transformation in these 21 days is to the level of your very DNA, your very bio-memory. That is why people are able to walk out of so many diseases and disorders, even hereditary diseases.
When you go finish the program, you will have more intelligence, more spiritual quotient, more emotional stability. You body cell's mitochondria - roughly equates to Kundalini energy - the inner potential energy). On an average, for all participants, Mitochondria cell energy increases by at least 1000%. This whole program is designed to reproduce the various components of enlightenment in you."
Contact Life Bliss Foundation @ 909.625.1400
To Submit an Intention Form to the Inner Awakening Program: http://innerawakening.org/intention
ABOUT HIS HOLINESS PARAMAHAMSA NITHYANANDA:
Videos on Enlightenment Science:
http://www.youtube.com/watch?v=ty1DtDKt-08&feature=plcp
Kundalini Awakening videos:
http://www.youtube.com/user/LifeBlissFoundation/videos?query=kundalini+awakening
Paramahamsa Nithyananda is not only one of the most watched Spiritual Guru on YouTube, he is ranked as one of the world's 100 most spiritually influential personalities. He has recently inherited the world's oldest and most ancient Hindu Spiritual Organization – the Madurai Aadheenam, by being coronated as the 293rd pontiff of Madurai Aadheenam.
Paramahamsa Nithyananda is a global leader in yoga, meditation, kundalini awakening enlightenment science. Clear, dynamic and modern in approach, Nithyananda's teachings have already transformed 15 million followers in 150 countries with the fastest growing spiritual community around the youngest incarnation.