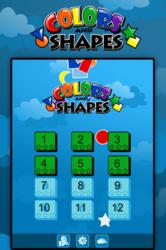 Portage, MI (PRWEB) July 05, 2012
Developing hand-eye coordination while learning the difference between orange and green or a circle and a square, for example, are explored in Learning Gems' free app, Colors and Shapes, which is appropriate for toddlers through elementary-aged children. This educational app can be downloaded from the Amazon Kindle, Apple, Barnes & Noble and Samsung app stores as well as from Google Play.
Colors and Shapes starts with simple levels that test a child's ability to identify colors, then shapes. As they progress through the levels, the difficulty increases and the child will be challenged to recognize both colors and shapes at the same time. An early level would entail three options, a red triangle, a blue triangle and a yellow triangle. The youngster would be asked to identify the red triangle from these options. Then, a more moderately difficult level will offer nine options of all the same color, but differing shapes. In this scenario, the child might be prompted to select the orange heart. Then, the most advanced levels feature nine options of differing shapes and colors. At this highest level of difficulty, the child is asked to choose the pink crescent from the nine choices. The progression of difficulty keeps children entertained and continuously challenges them.
While playing Colors and Shapes, the child works on their hand-eye coordination and also practices their understanding of basic colors and shapes. Blue, green, orange, pink, purple, red and yellow are colors taught paired with the following geometric shapes, circle, crescent, diamond, heart, oval, rectangle, square, star and triangle.
This is yet another delightful educational app from Learning Gems, a division of Blue Fire Media whose specialties include web design, web marketing and SEO. This is one downloadable app among many that teach youngsters math, Spanish, spelling and other basic concepts. The company has also created game apps that are geared toward children. The Learning Gems team continuously strives to teach children through educational apps, a passion shared by their professional team of school teachers, programmers, graphic designers and copywriters. Colors and Shapes, a vibrant, exciting app with educational value along with other Learning Gems apps are sure to be a hit amongst children.
About Learning Gems
Learning Gems is a team programmers, school teachers, graphic designers and copywriters whose goal is to help making learning fun. They specialize in making engaging and entertaining educational apps for kids. To learn more about Learning Gems, visit http://www.learninggems.com.
About Blue Fire Media
Blue Fire Media group is a Kalamazoo Web Design company who also specialize in SEO, Internet marketing and social media marketing. To learn more about their services, visit http://www.bluefiremediagroup.com.