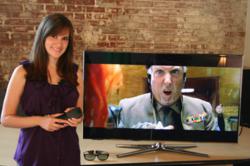 There's no shortage, but many of the top manufacturers just dont bother with smaller TV sizes anymore
Atlanta, GA (PRWEB) July 06, 2012
CEAG Editors Robert Wiley and Jack Burden are at it again reviewing TV after TV to get to the bottom of the question, "What to Recommend for this Year's Holiday Season."
Many of the TVs they are currently reviewing have just entered the market while others have been out for a couple of months. "There is a lot to choose from, but not as much as the last couple of years in the smaller size TVs. There's no shortage, but many of the top manufacturers just dont bother with smaller TV sizes anymore," stated Wiley.
Among the Best 32 inch TVs CEAG reviewers recommend are the new 32" Samsung LED-LCD TV the Samsung UN32EH4000 32 inch for which editors state, "Viewing quality is enhanced by the strong LED backlights and light throughput that they afford. Areas of the screen where content sunlight hits a picture background or image will be striking as the clear coat screen makes the picture come alive. Colors are not as saturated as plasma or some other LED manufacturers screens."
Editors commented on the new Toshiba 32C120U by writing, "The 32C120U 32" TV will be priced very competitively for 2012 at between $289 and $319. It is available starting at the end of January of 2012 and will continue to be sold until around March of 2013. It is Toshiba's most competitively priced TV for 2012 and will be one of the best deals in the 32" LCD TV market for this year."
Next, reviewers liked the Sony KDL32BX330 LCD TV, "Black levels on the BX series appear inky in the bottom and top banding bars of the picture but lack a little depth in the actual images. As well, while we could easily get deep blacks in the picture with the brightness setting at a low level, we lost depth of blacks when turning it up to get better dark shadow detail."
Company editors like a second Samsung in the small LCD TV category with the Samsung UN32EH5300 32-inch TV for which they stated, "Though it does not have some of the higher end features such as 240Hz processing or Micro dimming technology you will be impressed by the picture quality on this smaller LED Television just like we are. Viewing quality is enhanced by the strong LED backlights and light throughput that they afford."
About CEAG Inc.
Consumer Electronics Advisory Group Inc. operates several premier buying guide websites, including plasmatvbuyingguide.com, lcdtvbuyingguide.com, and 3d-tvbuyingguide.com among others. Online since 1999, the company provides objective and thoroughly researched information through professional reviews performed by seasoned reviewers. Editors Robert Wiley and Jack Burden have been reviewing televisions since the first commercial plasma TVs hit the market in year 2000. ISF calibrator John Wirtz has been calibrating televisions professionally for 10 years. The company adheres to strict testing guidelines using the highest caliber equipment. Company web sites have more than 15 million unique visitors each year in the fast growth consumer electronics industry.