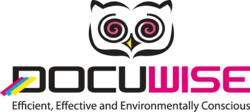 Printers are Part of the IT Network, Manage them or Someone Else Will
Long Beach, CA (PRWEB) July 09, 2012
DOCUWISE's PESO™ (Print Environment System Organizer) MPS-RMM platform is now available as a quickly deployed template in Artisan Infrastructure's Certified Solution Ecosystem, allowing access to the complete award winning DOCUWISE MPS solution. This allows the Channel to leverage Artisan Infrastructure's best-of-breed IaaS, providing direct "on-net" access to the DOCUWISE option based, brand-agnostic managed print solutions and the ability to monitor and managed any document output environment. This functionality includes all OEM hardware brands and models of networked and non-networked print devices, fax machines, copiers or MFPs.
To demonstrate the benefits and value of this partnership within the Channel, DOCUWISE and Artisan Infrastructure will co-host a three part joint webinar series that begins July 12th, entitled "Printers are Part of the IT Network, Manage them or Someone Else Will" (Register Here). The online conference series features presentations by Frank Bauer, Sr. Manager, Strategic Alliances with Artisan Infrastructure and Ron Harris, President and CEO of DOCUWISE, LLC. Attendees will learn about market potential, the competition, recurring MPS revenues and why MPS is a Blue Ocean Strategy.
"DOCUWISE delivers the Channel's only Turnkey Brand Agnostic Cloud-based Managed Print Solution at a time when MPS is starting to gain real traction in the industry," explains Keith Woodard, DOCUWISE's Director of Channel Sales. "The race is to manage the entire network and the combination of Artisan Infrastructure and DOCUWISE provides MSPs access to a critical tool, to move ahead of the oncoming competition and a distinct advantage in winning their customers' managed print business."
About DOCUWISE:
DOCUWISE is a Hybrid Managed Print Solutions Provider. The DOCUWISE Partner Program was rated 5 Stars by CRN in April 2012. The DOCUWISE MPS solution is turn-key and was created exclusively for IT Service Providers. Our proprietary cloud- based MPS-RMM platform PESO™ allows an IT service provider to monitor, manage and automate an unlimited number of Document Output Environments simultaneously. The PESO™ MPS-CRM guides an MPS Partner through the entire MPS process from prospecting to implementation - it's comprehensive, easy to use and intuitive. PESO™ includes online training, remote monitoring, data tracking, supply fulfillment, nationwide on-site service, help desk, automated billing options, TCO analysis, rightsizing, asset allocation, proposals, contracts, implementation and optimization. For more info, please visit http://docuwise.net. Contact DOCUWISE - info(at)docuwise(dot)net - 310.928.3030
About Artisan Infrastructure Inc.
Artisan Infrastructure is the wholesale Infrastructure-as-a-Service provider. The company delivers private infrastructure on demand through a global network of more than 250 service providers and maintains geographically diverse SAS 70 Type II / SSAE 16 Type II and TIA-942 Tier Four certified data centers. Partners include national and international managed service providers, systems integrators, software developers, communications providers, and value added resellers. Through Cornerstone℠, Artisan Infrastructure's virtual Private Data Center (vPDC) platform, partners maintain complete autonomy, control, security, and visibility when building their own private and public cloud solutions. Cornerstone scales from single site, secure multi-tenant environments to highly complex dedicated infrastructure on multiple continents. With Artisan Infrastructure, partners eliminate the capital expense of building and maintaining best-of-breed, infinitely scalable, infrastructure while minimizing operational and engineering overhead. The Certified Solution Ecosystem of Independent Software Vendor (ISV) templates allow immediate deployment, trial, and delivery of cloud solutions more affordably. For more information contact the company at 512-600-4300 or http://www.artisaninfrastructure.com.