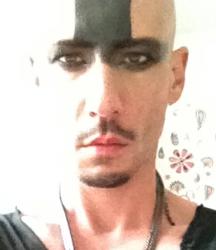 "I love rock music too much? Rock music loved me back."
- Derek Nicoletto, "Champion"
New York, New York (PRWEB) July 06, 2012
"Rock music loved me back!" Derek Nicoletto punches and sings in his official music video for "Champion," released today, with couture clothes and jewelry slapping his body while he runs through the night. From spooky fashion to funky and free, Nicoletto also offers fans free "Champion" remixes on Soundcloud.
After his official music video release party at New York's (Le) Poisson Rouge, Out.com editor Alex Panisch wrote, "Derek Nicoletto... Dark and brooding, his energetic yet introspective set took in the crowd... His set had punk rock intensity with glam rock underpinnings...crowd awing, all-in showmanship." True to this description, the video, filmed in the deep woods near Woodstock, New York by Interference Films, mixes glam rock style and soulful grit, true to the sound of the original track from Nicoletto's solo debut album, "Kind Ghosts" (7 Trick Pony/Island Def Jam Dig. Distr). With clothes donated by designer Marcos Campos and jewelry by Michael J. Spirito, the video gives a fashion-in-the-woods feel.
Derek Nicoletto "Champion" official video: http://www.youtube.com/watch?v=CL_U8310pto
"I wrote this song for my ex, who said I loved rock music too much. Well, rock music loved me back," Nicoletto snaps.
Concerned with delivering a multi-faceted experience with every single, Nicoletto had the track remixed by New York producers Mirrortone and offers it free for DJs and fans. The result is a fun, punk-disco radio edit and an extended DJ-friendly version of "Champion," available at http://soundcloud.com/dereknicoletto
Nicoletto has become a well-known voice in the independent music scene and a voting member of the Grammy Awards. With 2011's "Kind Ghosts", Nicoletto began his solo career with an electropop bang. Songs from his album have been placed in over 30 television programs and several mainstream commericals in the last year.
Media contact: Kiyanu Kim, dn(at)7trickpony(dot)com
http://dereknicoletto.com
http://youtube.com/dereknicoletto
http://twitter.com/dereknicoletto
http://facebbook.com/dereknicolettomusic
____