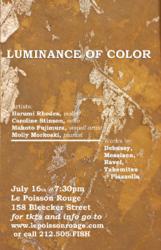 New York, NY (PRWEB) July 07, 2012
Pianist, Molly Morkoski, cellist, Caroline Stinson, and violinist, Harumi Rhodes, have long collaborated on many of New York's finest stages, including Carnegie Hall, and are current members of Ensemble Meme. Visual artist, Makoto Fujimura and Molly Morkoski have long talked of collaborating and have found their beginning in Messiaen's Preludes, which features video imagery to accompany the music. Together they are presenting a program at New York's (Le) Poisson Rouge called Luminance of Color, featuring performances of works by Messiaen, Debussy, Ravel, Takemitsu, and Piazzolla. Light, refracted images of birds and waves, visual and sonorous colors are the unifying themes of this program.
Messiaen's Preludes, written in 1928-1929, are highly evocative and colorful works that are indebted to the influence of his impressionistic predecessors, Ravel and Debussy, and written at only 20 years of age. While these pieces are not entirely indicative of his later, more mature style, the listener can undeniably hear his unique harmonic language (his modes) and, with them, his limitless palate of musical colors and their combinations. Messiaen had synaesthesia, a condition where a person sees colors when they hear sounds, and these colors were quite vivid in intensity and shape and even in their movement. It seems only fitting that the music of a composer who describes his own work in colors should collaborate with artist, Makoto Fujimura, who often works quite literally in gleaming gemstones, and who also shares Messiaen's love of birds and has even had some synaesthetic experiences. For the preludes, Fujimura has decided to use a pure, traditional, and no longer produced Japanese silk. This precious silk is gilded with gold and then distressed, leaving a remnant of gold and allowing light to pass through. Multiple panels of glittering silk will surround the piano. Projected images of birds, oceans, and tress will be projected across the silk, creating a refractive image and sensory experience and will be manipulated in real time by Fujimura. The images of waves are from Kamakura, where Fujimura spent considerable time in childhood watching and drawing.
The Messiaen is joined on the program with Debussy's Cello Sonata written in 1915 as World War I was raging and as Debussy was suffering from the cancer that would eventually take his life. It is a concise work filled with beauty and irony and is one of the great masterpieces of the cello repertoire. Ravel's Sonate Posthume written in 1897 for violin and piano, but published and first publicly performed in 1975, will open the program beautifully and find a pairing later with Takemitsu's Distance de Fée from 1951. Takemitsu's work was highly influenced by the spirits of Debussy and Messiaen and based on a poem's imagery of winds and birds, also themes that permeate this program.
Tickets are $15 for advanced sale and $20 the day of the concert. Doors open at 6:30 pm. More information here: http://lepoissonrouge.com/events/view/3482