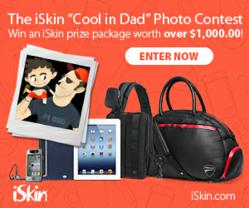 If you don't get your entry in, you can't win.
Toronto, Ontario (PRWEB) July 06, 2012
iSkin, a premium brand for fashion and technology lifestyle accessories will close submissions for entries in the "Cool in Dad" Facebook® photo contest on July 7, 2012.
The contest is aimed at honoring the father figures in our lives. The individuals who, in their own way, can still impress with their know-how, their charm, and their passion for being a parent.
iSkin "Cool in Dad" photo entries show the "Sports Dads" cycling, waterskiing, rollerblading, swimming, hiking, and working out; "Dad, the artist" who plays the guitar, the piano; Dads who sing, dance, and act. And of course, the "Romantic Dads" in tuxedos, dancing, kissing, hugging, smiling, and laughing with the joy that can only be found with perpetual "Coolness."
With the deadline fast approaching, it is important that you get your entries in before it's too late.
The contest winner will receive an iSkin prize pack that includes the Ducati collection Jimmy Sports/Weekender travel bag, the iSkin Fuze SE for iPhone, the iSkin Agent 6 Sling Carrier for iPad, iSkin earbuds, a $100 iTunes gift card, and the new Apple® iPad 3rd generation. Total value of prize package is well over $1,200!
iSkin Inc. designs and delivers an inspired line of accessories, enhancements and solutions for the thriving Digital Lifestyle marketplace. iSkin has earned the reputation of being one of the most trusted brands in the world by being a company that focuses on total in-house, top to bottom product development with unique designs, technologies and innovations.
iSkin is one of the first companies that started to create new-generation, protective solutions with fashionable style for mobile devices with the birth of the iPod® in 2001.
The iSkin word mark and logo are registered trademarks of iSkin Inc., registered in Canada, the United States and other countries. All Rights Reserved 2006-2012. iPhone® 4, iPhone® 4S and Apple® are trademarks of Apple Inc., registered in the U.S. and other countries.
For additional information on this or other iSkin products, please contact iSkin PR at press(at)iSkin(dot)com or at (416) 924-9607, ext. 248. Follow us on twitter.com/iSkin for live social updates.