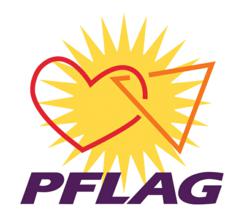 As more allies of faith speak out for full LGBT inclusion, our loved ones will more often find a home within religious institutions, and that will make all the difference in the world...
Washington, DC (PRWEB) July 09, 2012
PFLAG National (Parents, Families and Friends of Lesbians and Gays)—the nation's largest grassroots-based non-profit for families, friends, and straight allies of lesbian, gay, bisexual, and transgender (LGBT) people—today unveiled its newest publication under its Straight for Equality project ,"be not afraid – help is on the way: straight for equality in faith communities." The guide, accompanying web resources, and training series will empower more straight allies of faith to rethink what acceptance of LGBT people means and offers specific strategies for expressing support.
The publication builds on PFLAG's 40 years of experience as the family and straight ally voice in the LGBT equality movement, and expands the organization's reach among new straight allies. Rather than the more traditional focus on instructional change in specific faith traditions, the new publication provides readers with specific ways to create individual change as straight allies of faith, beginning with ideas for personal reflection, tools to help initiate conversations in faith communities, and connecting new allies with progressively more advanced opportunities for learning and discussion.
Rabbi David M. Horowitz, PFLAG National president and adviser on the project, emphasized the need to engage new allies in faith communities. "As a PFLAG dad, and as a clergy person, I know that the 'be not afraid…' publication will help build support for change in our religious institutions. As more allies of faith speak out for full LGBT inclusion, our LGBT loved ones will more often find a home within religious institutions, and that will make all the difference in the world in increasing acceptance for all and strengthening faith communities."
"be not afraid…" is the third publication in PFLAG National's Straight for Equality project publication series. Launched in 2007, Straight for Equality, was developed to invite, educate, and engage new straight allies—people without a family connection to the LGBT community—who may not understand the powerful role they have in advancing the discussion about equality. Since its inception, thousands of people have been trained in Straight for Equality programs nationwide, with publication distribution exceeding 150,000 copies.
PFLAG National Executive Director Jody M. Huckaby highlighted the unique voice and approach of the Straight for Equality project and its influence on "be not afraid… ." "For too long there has been a sense that being accepting of LGBT people is an either/or situation – either you're supportive or you're a good person of faith, not both. There has also been a sense that change won't happen in some faith communities. We know that simply isn't true. 'be not afraid…' re-frames the discussion about what being an ally of faith means, acknowledges the personal journey to acceptance, and embraces allies no matter where they are now, offering specific actions they can take to express support."
In the upcoming months, PFLAG National will host several webinars to educate its members and supporters on the guide content and how to use it in their own faith communities to transform the discussion about faith and equality.
"Today's launch is just the beginning of a completely new approach to faith work for PFLAG National," said Horowitz. "Whether it is in religious communities, in our more than 350 chapters, or just in our one-on-one-conversations, PFLAG will be there to transform the way we talk about these issues and how we work for equality everywhere."
The publication and associated web resources are available online by visiting http://www.straightforequality.org/faith.
###
Founded in 1972 with the simple act of a mother publicly supporting her gay son, PFLAG is the original family and straight ally organization. Made up of parents, families, friends, and straight allies uniting with LGBT people, PFLAG is committed to advancing equality through its mission of support, education and advocacy. Now celebrating its 40th anniversary year, PFLAG has more than 350 chapters and 200,000 supporters crossing multiple generations of American families in major urban centers, small cities and rural areas in all 50 states. To learn more, please visit http://www.pflag.org.