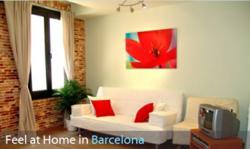 Tellavista.com enables you to book a vacation apartment online, without going through numerous agencies or brokers. Our website allows you to conveniently book accommodations to suit your schedule and budget.
TEL AVIV, ISRAEL (PRWEB) July 10, 2012
The team at Tellavista.com have just launched a great new Chat System that enables a person looking for a place to stay to chat with people looking to rent their apartments for a short term. This opens up the lines of communication, making each party more comfortable with each other, while building credibility for each party. Prices can be negotiated between the parties without paying commissions to a travel agent.
The shrinking size of hotel rooms coupled with the up-charges for everything makes them pale in comparison to some of these low cost, lavish, short term apartment rentals. A true home away from home, the added privacy and space makes an apartment rental the obvious choice. Do you enjoy having to check-out by 11:00 am, or having housekeeping bang on your door? All of that is a thing of the past. In addition, travelers can now avoid the high costs of hotel dining and room service, as each apartment rental includes a full kitchen. Now travelers can save their money and hit the town for those special nights, instead of paying to eat out for each meal.
Tellavista is the brainchild of two brothers, Roee and Nadav Ziv. They recognized how baffling it was for tourists and business executives to try and rent a short-term apartment online. The brothers decided to start Tellavista, and change this chaotic experience into a simple, organized process. Their goal was to create a friendly and reliable platform, allowing travelers to search, compare, and book – without having to deal with agents and brokers. Tellavista also guarantees a liberal cancellation policy and scam-free ads.
In a recent interview, Nadav Ziv stated: "Our real goal is to provide a level of service that is way above our competition, and to provide the widest selection of apartments, in the most traveled cities all over the world." He goes on to say "we will do this while offering the best rates, and making communication easy through over 7 different languages". The many testimonials they have received prove that they are on the correct path.
Travelers can now find a convenient apartment rental to suit their travel schedule as well as their budget. Owners have the opportunity to personally screen applicants. The use of un-edited, clear, color photos show how the apartments actually appear. In addition, Tellavista never employs tricks or scams in order to lure travelers. This travel web portal has been hailed by many corporate travel directors for its ease of use. They love the trouble-free navigation of the site as well as the quality of the accommodations.
Please visit the website for more info: http://www.tellavista.com/
Hot Destinations:
Vacation rental tel aviv
Jerusalem apartments
Nadav Ziv
http://www.Tellavista.com
Tel Aviv, Israel