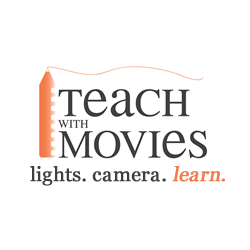 Capture their heart and their mind will follow...
Los Angeles, CA (PRWEB) July 06, 2012
Movies can be part of summer fun and parents can help their middle-school students keep their minds growing by serving up good quality films. To assist parents in selecting films for their children, TeachWithMovies.com has just announced its middle-school summer viewing list.
Here are TWM's suggestions for Summer 2012 for students ages 11- 13:
"Casablanca" [Not rated; recommended ages 12+] Always and forever – perhaps the greatest film ever made.
"West Side Story" [Not rated; recommended for ages 12+] Considered one of the best musicals ever put on film, West Side Story is an adaptation of "Romeo and Juliet" moved to New York in the 1950s. The music and lyrics are terrific. The male dancing captures the strength and energy of the young men who make up the rival gangs.
"Remember the Titans" [MPAA Rating: PG; recommended for ages 11+] This is the uplifting story of an integrated football team that overcame the obstacles of centuries of prejudice to come together and have a championship season. Your kids will be fascinated to learn that the two coaches actually became good friends, that the Titans' two star players, one white and one black, became life-long friends, and that the team was never an underdog.
"The Pursuit of Happyness" [MPAA Rating: PG-13; recommended for ages 12+] In this movie, adapted from the real-life story of Chris Gardner, an African-American man, abandoned by his father as an infant, vows that he will always be present in the life of his child. Caught in a perfect storm of bad luck, he becomes homeless. However, he manages to take care of his son, on the way to becoming a wealthy stockbroker. This movie shows an example of a man being committed to his child. However, tell young summer viewers that the real lesson from the life of Chris Gardner is not shown in the movie.
When Chris Gardner was a child, he and his mother were repeatedly beaten and psychologically abused by his alcoholic stepfather. As a young boy, Chris decided to "go the other way." He would not hit women. He would not beat children. He would not drink so much that he didn't know what he was doing. He learned what not to do by his stepfather's example. Tell this story to children who watch this movie.
"Apollo 13" [MPAA Rating: PG; recommended ages 11+] Actions of moral and physical courage abound in this true story of a flight to the moon gone wrong. Before the film, ask your child who is the best team player on the mission. The answer is someone who never left the ground: Ken Mattingly. He proved to be instrumental in saving the mission and his actions embody the true meaning of being a team player.
"Beethoven Lives Upstairs" [Not rated; recommended for ages 9 to 12] The man who was one of the greatest composers the world has ever know is now deaf, but he can still hear new forms of music in his head. This charming story is centered on a fictional friendship with the son of his landlady.
"The Black Stallion" [MPAA Rating: G; recommended for ages 11+] Beautifully filmed and heartwarming, this story is about friendship between a boy and a horse. The gorgeous images from this movie will never leave your child.
"Cool Runnings" [MPAA Rating: PG; recommended for ages 12+] Bobsledding in Jamaica? A Jamaican team entering the bobsledding competition in the Olympics. Improbable and entertaining this film is based on a true story and contains great character lessons, including: "learn to think outside the box" and "don't let a few major set-backs make you give up."
"Ever After" [MPAA Rating: PG; ages 10+] This is the Cinderella fairy tale re-tooled with a feminist twist and re-imagined to occur in the Renaissance. The movie is full of interesting historical allusions.
"The Gods Must be Crazy" [MPAA Rating: PG; recommended for ages 9+] From the Bushman point of view: we're overweight and inept. Children love this unusual comedy.
"October Sky" [MPAA Rating: PG; recommended for ages 10+] Americans of the late 1950s and early 1960s were petrified by Sputnik. In this becoming of age movie, a boy in a coal town in West Virginia turns his dreams of designing rockets into reality. He teaches himself calculus and recruits a group of friends to make rockets that win a blue ribbon in the National Science Fair. He eventually becomes an engineer for NASA.
"The Rookie" [MPAA Rating: G; recommended for ages 9+] As a young man, he threw out his arm trying for the majors. A decade or so later, he finds that the arm has healed, that he can through with the big league pitchers and he becomes the oldest major league rookie in baseball history.
"The Russians Are Coming!" The Russians are Coming! [Not rated; recommended for ages 8 -12] This madcap comedy shows how much we were afraid of the Russians during the Cold War.
"Fly Away Home" [MPAA Rating: PG; recommended for ages 10+] Mourning the loss of her mother in a tragic automobile accident, a young girl finds solace in raising a flock of orphaned geese. To help them renew their migration route, she and her father have the goslings imprint on ultralight airplanes. Father and daughter, trailed by their flock, fly from Canada where the goslings were raised, to a wildlife sanctuary in the United States. This movie shows a healthy path out of grief into acceptance (go to nature, get a project outside of yourself, let others comfort you) as well as environmentalism in action.
To find more recommendations for great movies and information on how to use film to help educate children, visit: TeachWithMovies.com.
TeachWithMovies.com is the premier site on the Internet showing teachers how to use feature films and other video resources to enhance the classroom experience. The site offers thousands of pages of lesson plans and curriculum materials on more than 350 feature films. The price for access to all TWM curriculum materials is $11.99 per year per teacher. Discounts are available for bulk purchases.