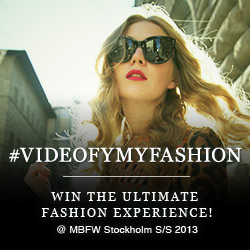 Stockholm, Sweden (PRWEB) July 09, 2012
Get ready fashion bloggers, the newest social video app VideofyMe, has teamed up with blog service giant Tumblr, and Swedish fashion publication Bon, to present the first-ever #Videofymyfashion video challenge.
An international search for the top trendsetters in fashion, the 2012 #Videofymyfashion challenge is a month-long contest to find those fashion forward individuals who can capture their best summer fashion moments using the VideofyMe app.
To enter, contestants must first download the free VideofyMe app from the iTunes App Store or Google Play. Next, use the app to capture what inspires and defines their personal summer fashion and tag the video with #videofymyfashion. Finally, share it with friends and family via their blog, Facebook and Twitter, in an effort to gather as many likes within the VideofyMe player as possible. All entries can be watched at videofymyfashion.tumblr.com. Entries will be accepted July 9th through August 12th.
The top 10 videos with the most VideofyMe like's will be critiqued by a jury including Margareta van den Bosch (Creative Advisor, H&M), Valentine Uhovski (Fashion Evangelist, Tumblr), Linda Leopold (Editor in Chief, BON), Marit Woody (Managing Director, Bloggers Wardrobe) and Derya Akol (Marketing Director, VideofyMe).
Winners will be announced on August 17th. First prize includes the opportunity to accompany the Bon editorial team to the 2013 Mercedes-Benz Fashion Week in Stockholm, a membership to Blogger's Wardrobe, a feature on storyboard.tumblr.com, a five night stay at Story Hotel in Sweden and a crazy busy schedule of fashionable fun!
Second and third place runner-ups will be given exclusive invitations to Blogger´s Wardrobe and have featured placement within the VideofyMe app.
For more information visit videofymyfashion.tumblr.com
About VideofyMe:
VideofyMe was founded in 2009 by Robert Mellberg and Oskar Glauser and is a service that connects video creators with advertisers. Users upload their videos through the social video service and take advantage of ad revenue on a per viewing basis. Today VideofyMe has over 250,000 registered users including Coco Rocha, Style Scrapbook, The Blonde Salad, Fashion Chalet, La Carmina and I SPY DIY. Since their start in 2009, VideofyMe has awarded more than 1 million dollars to its users. In September 2011, an international version of VideofyMe was released and video screenings increased from four to 40 million views per month.