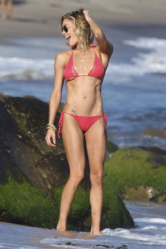 (PRWEB) July 07, 2012
Multiple Grammy Award winner Leann Rimes is the latest in a growing number of top singers, actors and models flaunting figure-flattering crochet fashions this summer. What began as an occasional photo of an actress or model wearing crochet fashions at a Hollywood party, or on a Malibu Beach, has turned into a full-scale style revival, according to Sarah Wallner, founder of http://www.Musotica.com and Musotica's Wholesale Division.
Wallner is credited by many fashion industry observers with playing a large part in reigniting the crochet movement when Marie Claire featured her classically inspired, yet versatile collection of crochet swimwear in a special magazine insert. One of Hollywood's most sought-after celebrity stylists, Wallner believes it was just a matter of time before crochet caught on for good after the fashion fad faded in the seventies. You can view Sarah's styling work at http://www.SarahWallner.com
"Crochet has certainly come of age and is looking smarter and sexier than ever," said Wallner, who believes women from all walks of life have the right to dress like celebrities, without having to overpay for Hollywood A-list apparel. "Today's crochet fashions don't only look amazing as swimwear in and out of the water – they can be worn as cover-ups with jeans, dresses, skirts, shorts – you name it."
The Italian-born fashion expert is particularly proud to point out that the same style that country artist LeAnn Rimes was recently photographed wearing – a http://www.Musotica.com coral bikini – and was also featured in the June 25th issue of In Touch Magazine.
Wallner believes that the heightened attention coming from such superstar celebrities as Leann Rimes donning crochet fashions from http://www.Musotica.com is not only good for her online business… but for women in general.
"There's no question that crochet fashions are here to stay, because they're perfect for any woman who wants to add a splash of color, pizazz, sexiness and style to their wardrobe," she said. "I design my website's lineup of crochet wear in easy-to-maintain cotton and nylon blends. And as for colors, well… the rainbow is literally the limit. We feature colors from black, white, off white, and mustard yellow to coral, brown, baby blue, baby pink, gold and purple."