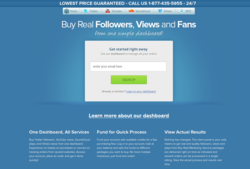 Ottawa, ON (PRWEB) July 06, 2012
In order to increase web traffic, one of the proven solutions is video marketing. YouTube and Vimeo are two video websites regarded to be the top two traffic referrer in their ilk. Buy Real Marketing offering views for these two video websites knows the advantage of including online videos in a business' marketing plans.
Buy Real Marketing, a world provider of web 2.0 applications, encourages their customers and prospective clients to take on the road of video promotion to help increase web traffic. The company has been an advocate to helping small businesses thrive online through social media, but does not demerit the importance of optimizing for search engines.
"As much as we want for online businesses, like Buy Real Marketing, to be independent and free from the clutches of search engines such as Google, social media have yet to break the standard of reliance on search. It's a doubt, that day will ever come," shares Business Development – Managing Director, Jonathan Kennedy.
Buy Real Marketing currently has nine (9) YouTube videos and four (4) Vimeo videos promoting the company and its services. Complementing websites with marketing videos is one way to branding as well as to let the online community know about services and what it can do for them. The company currently offers YouTube views and Vimeo views along with its line-up of social media services such as Twitter followers and SoundCloud plays.
"We encourage our clients into video promotion to help them maximize the online potential of their products and services. The Buy Real Marketing blog regularly produces articles about video marketing to guide our clients and visitors into the proper way of creating video ads and how to optimize them for maximum exposure," explains Managing Director, JP Bisson.
Buy Real Marketing is the pioneer company that has launched several businesses' social following online and leveraged their marketing potential through social media. Social media packages are guaranteed 100% money-back and are given at affordable prices. Customer service is available 24/7 to answer inquiries and concerns regarding the services.
To know more about the company's services, visit their website at http://www.buyrealmarketing.com or contact them at 1-877-435-5955.
About
Buy Real Marketing is owned by Clicking Labs, Inc. Clicking Labs is a well established internet marketing company founded in 2010 by Jean-Patrick Bisson, Diana Quartin and Jonathan Kennedy. The company specializes in driving search marketing and social media traffic, social web app development and conversion optimization. Each product or service specifically helps small/medium website owners increase online visibility and improve online sales.