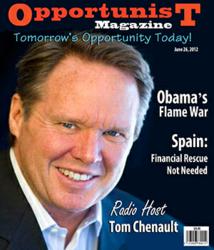 I quickly rose to the top of the brokerage business—not because I was very smart but because I was a very good salesman.
National (PRWEB) July 07, 2012
Opportunist Magazine's June issue hit newsstands today with Tom Chenault picture gracing the cover. An interview with the Colorado based radio host touches on topics ranging from Chenault's six figure sales career to how he overcame his struggles with alcohol. As interviewer and managing editor Leslie Stone dives deeper into Chenault's motivations, she discovers his energy and expertise are now devoted to a single main idea: helping others succeed. His two secret weapons—Contact Mapping and $8 a Minute are systems aimed at assisting people in achieving their financial goals. Tom has become not only an individual success, but he has also become very good at leading others to success. Opportunist Magazine was so impressed they gave him the cover.
Opportunist Magazine focuses on providing valuable information about investing, finance, and opportunity. It is obvious that Chenault is no stranger to these fields. His past experience qualifies him as an expert in all three. When asked about his success in the finance industry Chenault says, "I quickly rose to the top of the brokerage business—not because I was very smart but because I was a very good salesman." He emphasizes his ability to extract money from investors as the foundation for his success as a stock broker. Now, he has taken the principles he discovered were so effective in his past professions and delivers them in a system he calls Contact Mapping. Contact Mapping moves the salesman's focus from the transaction and places it on the human being who is responsible for the purchase decision. His processes are designed to develop enriching relationships between buyer and seller, transforming transactions into more than a simple, impersonal exchange of money.
Chenault also hosts a successful radio show in which he interviews industry icons on a regular basis. Interviews with guests such as the late Art Linkletter, Robert Kiyosaki, and Mark Victor Hansen are value packed conversations with business powerhouses who understand the secrets to success. He has archived many of these audios on his website and has made them available to everyone. Chenault's show is his true passion. He told OM, "What I enjoy and love the most is that radio is right now and I can make a difference." He appreciates the value of instant opportunity and he is using it to spread his story and his values.