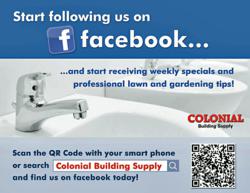 A Facebook strategy... educate and answer customer questions...then offer an exclusive promotion.
Orem, Utah (PRWEB) July 06, 2012
The exploding need of using the new techniques of social marketing can no longer be set aside, as proven by the approximately 900 million Facebook accounts. Still, a large number of businesses aren't effectively capitalizing on this free business tool. The rainapps FB Setup and Signage Kit partners with Home and Garden business owners and managers and guides them to effectively:
--> Utilizing unused store ad space to increase Facebook presence.
--> Easily dress up a brands' Facebook page with professionally rendered cover and profile image files.
--> Increase customer foot traffic through positive relations with today's thriftier customers. These customers are enthusiastic to receive your home and garden advice and especially promotions. A Facebook strategy would be to educate and answer customer questions on watering methods in the garden, then offer the fans an exclusive promotion to get them in for gardening supplies
Readymade, high quality produced graphics are delivered for only $199. Upgrade to a customized branded kit with signage and digital files for an incredible $299. See samples of custom signage that were made for real customers here.
About rainapps llc: Launched in 2010, rainapps successfully blends technology and creativity experience. The team combines over 50 years of technology experience and 40 years of graphic arts experience. Other published rainapps software titles include Say Cheese Camera (20,000+ fans), Powered Up (FB deal app), and rainFrames and rainSlides. The company founder was previously involved with the development of Cricut, a popular craft and scrapbook paper cutting machine.