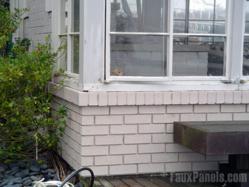 Faux brick trim is the perfect touch for any design
Deer Park, NY (PRWEB) July 10, 2012
Faux brick Regency door, decorative and window trim is the latest offering from FauxPanels.com for both residential and commercial buildings. Strong and beautiful, it opens up a wealth of design possibilities, whether used alone or with Regency faux siding panels.
"Our faux panels look fantastic by themselves. Now with the addition of manufactured brick trim, consumers have even more design options, plus they can create a really detailed brick and stone style that's affordable and low maintenance," said Steve Barron, president of Faux Panels.
Available in two styles – Contempo and Old Chicago Brick – it looks just like the real thing because it's made from molds of genuine new or reclaimed brick. It looks so good, everyone will think a brick mason installed it but it can also be a DIY project.
Just like Faux Panel's other manufactured brick products, it's made of durable, high-density polyurethane that is low maintenance. It won't dust or chip like genuine brick, nor will it rot, warp or attract insects like wood trim can. It easily stands up to routine household wear and tear, as well as the heavy traffic commercial buildings withstand.
While the average DIYer would probably hesitate to try to lay brick, he or she can easily cut or miter this trim to any size using common wood cutting tools. Contractors love it, too, because they can guarantee consistent results and finish a project quickly.
Contempo trim has the sharp, clean lines of sleek, modern brick. It can be an attractive contrast to rugged faux stone siding panels or the perfect detail with contemporary manufactured brick panels.
Old Chicago decorative trim has a more rugged appearance. Made from molds of reclaimed brick, it adds a weathered look that can give a new home the appearance of a long-standing building. Both styles have a wide variety of uses.
Old Chicago window, decorative and door trim comes in eight different colors for further versatility. Antique Brick, Baked Clay, Glacier, Cream Caramel, Dusky Evening, Mocha, Mixed Twilight and Spiced Brick provide a shade that will go with virtually every design. Contempo comes in four colors -- Glacier, Baked Clay, Mixed Twilight and Spiced Brick. Even better, because Contempo and Old Chicago are available with a Class A fire rating for an extra charge, the trim can be used indoors as well as out.
"Thanks to its design, color and fire rated options, Regency trim truly provides a wealth of design options for any type of building or set design. It's a winner, hands down," said Barron.
FauxPanels.com is an industry leader due to wealth of installation guides for DIYers and the best selection of the realistic faux brick, stone and wood panels and columns on the market. Its products have been regularly featured on television shows such as "Celebrity Apprentice" and numerous appearances on "Extreme Makeover: Home Edition." FauxPanels.com is a subsidiary of Barron Designs Inc., a family-owned home improvement business operating since 1972. For more information, visit FauxPanels.com.