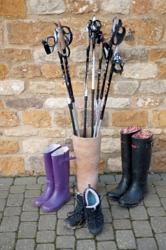 training is hard work and this is why I try to keep training FUN! This fun element takes the emphasis off the hard work and has proven over the years to yield great results
Northampton, London (PRWEB UK) 16 July 2012
Over the last few months Homefield Grange have been listening to feedback about their residential detox and weight loss programmes. According to Homefield Grange, they always try to improve and evolve their services to meet the needs of their loyal guests.
In response to this feedback they are increasing the 'fitness focus' within their residential detox packages to, as they say "get that blood pumping and to improve the feel good factor."
Working very closely with professional fitness trainers Homefield Grange intend to make sure that their detox retreat packages have all the elements that will accelerate and encourage weight loss and fitness improvement for their guests. They also hope that their guests will be able to continue with these exercise regimes beyond their stay at Homefield Grange.
Matt Sutton, one of the leading Personal Trainers in Northamptonshire has worked with thousands of people over the past 10 years achieving some amazing results. He will be working with Homefield Grange to design the fitness programmes that will feed this feast of fitness.
Matt says, "Training is hard work and this is why I try to keep training FUN! This fun element takes the emphasis off the hard work and has proven over the years to yield great results."
Company information
Homefield Grange is a dedicated, established and permanent spa retreat open 51 weeks of the year, assisting clients making positive changes towards their health and well-being. This caring team of qualified practitioners will provide all the help you would expect from a professional organization.
For more information about Homefield Grange you can visit http://www.homefieldgrange.co.uk
or call 01536 712219 or you can email enquiries(at)homefieldgrange(dot)co(dot)uk
About Matt Sutton
Specialist Training: Fat loss & Conditioning. Kettlebell Training, Core Stability, Spinning and Nutrition, Bootcamp Instructor
For more about Matt you can visit: http://www.lifestyle-pt.co.uk/trainers