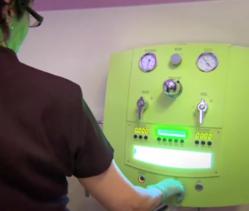 In our clinical experience clients have reported that colonics have helped them with issues such as flatulence, IBS, constipation, bad breath, thrush, headaches, joint pain, skin conditions and candida, to name a few benefits.
Northampton, London (PRWEB UK) 23 July 2012
Homefield Grange stands by the benefits of colonic hydrotherapy and certainly recognizes that there are contra-indications to treatments, which is why clients need to ensure they are in well practiced hands.
The leading body for colonic treatment in the UK is the Association of Registered Colon Hydrotherapists (ARCH), which maintains a register of therapists who have qualified on a recognized post-graduate training course.
Suzanne, Debbie and Judy, are fully ARCH registered practitioners at Homefield Grange Retreat and they assure their guests that "your treatment will be carried out in the most professional and appropriate manner".
Homefield Grange explain that "Colonic Hydrotherapy (Also know as colonic irrigation.) stimulates bowel activity by using the body's natural nerve and muscular response mechanisms, so is essentially a natural treatment. By using the body's natural nerve and muscular activity colonic hydrotherapy may help to tone and exercise the bowel, thus aiding the evacuation of waste both during and after treatment."
For a full and detailed description of the Colon Hydrotherapy process please visit: http://www.colonic-association.org/what-is-colon-hydrotherapy
Company information
Homefield Grange is a dedicated, established and permanent spa retreat open 51 weeks of the year, assisting clients making positive changes towards their health and well-being. This caring team of qualified practitioners will provide all the help you would expect from a professional organization.
For more information about Homefield Grange you can visit http://www.homefieldgrange.co.uk
or call 01536 712219 or you can email enquiries(at)homefieldgrange(dot)co(dot)uk