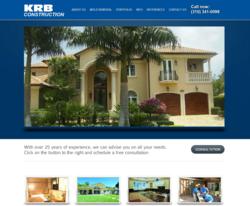 Los Angeles, California, July 5, 2012 (PRWEB) July 07, 2012
The chief executive officer at KRB Construction, a Brentwood general contractor company, today announced the business is now offering water damage restoration services. The company contracted Unique Web Consulting to create a new website which details the business's services and provides information on how to treat mold and water damages.
KRB Construction is only one of a few water damage companies to build a website which helps homeowners understand the many health issues that arise when a home has suffered mold and water damage. The company has been in business for more than twenty years so the senior management employees are more than qualified to publish articles which teach homeowners what to do in the event of a flood.
One of the best features of KRB Construction's new website is the extensive list of the most frequently asked questions that homeowners usually ask the company's employees regarding mold. A few of the most frequently asked questions are listed below, the answers can be found on the website.

Should I use bleach to kill mold?
Can I paint over mold?
Can mold really make me sick?
Can I be exposed to mold?
What is mold?
When is mold a problem?
What are the most difficult indoor molds to remove?
What are the best ways to get rid of mold in my home?
How do I know what kind of mold I have?.
How do I know if I have a mold problem?
How should I clean up toxic mold?
If mold is present, what's the best way to get rid of it?
What causes mold to develop?
Are there harmful and non-harmful molds?
Another popular article on the company's website is how to choose a quality mold inspection contractor. Many mold inspection companies only perform surface inspections which creates a problem when the homeowner hires a mold removal contractor. The issue begins with the cost of the mold removal since the homeowner is led by the inspection company's documents and believes the problem isn't going to cost too much to repair.
Then the mold removal company begins work and discovers more problems which increase the cost of the removal. So it is extremely important that homeowners know how to hire a quality http://krbconstructi on.net/fire-and-water-damage-repair-specialist/ [water damage company __title__ Water Damage] in order to avoid too many issues appearing unexpectedly.
About
You are guaranteed excellence and exceptional value when you award KRB Construction your remodeling project. We have an outstanding reputation with over 25 years' experience in residential remodeling in the Los Angeles area. From concept to completion, you will be in excellent hands with our team of professionals. Our successful track record has established us as an industry leader by our commitment to delivering outstanding quality, diligent performance and on-time completion.
Contact
KRB Construction, Inc.
2774 Sawtelle Blvd.
Los Angeles, CA 90064
Phone: (310) 341-0098
Website: http://krbconstruction.net