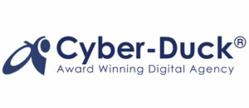 Optima is thrilled with the new responsive website which underlines Optima's position as an innovative market leader.
London (09/07/12) (PRWEB UK) 9 July 2012
Award Winning Digital Agency Cyber-Duck have today officially unveiled their latest web project with the launch of a brand new responsive web design (RWD) website for Optima. The new Optima website will now have the capability to adapt to the size of the users browser window screen, making it compatible on a desktop, laptop, tablet or smartphone.
Optima are the UK's industry leaders in the office partitioning industry, offering a service that combines the design, development and installation of a wide range of award winning partitioning systems. Having previously worked with Cyber-Duck on the build of their old website back in 2008, Optima wanted to stay ahead of their competition with another forward-thinking and industry leading website. This resulted in Optima commissioning Cyber-Duck to completely refresh the website's design and create a responsive website which would be fully optimised for a variety of devices, including smartphones, tablets as well as traditional desktops and laptops.
The new website also boasts a variety of other features which include a fully customised Content Management System (CMS) and a user friendly website structure. The new website also boasts a revamped and enhanced member's area which allows members to view and download from a comprehensive library of technical documentation, CAD drawings and templates to help users when specifying or ordering partitioning for their next project.
The latest web project for Optima extends a long and fruitful business relationship between the award winning partitioning specialists and Cyber-Duck. Previously Cyber-Duck have worked with Optima to design their previous web presence for UK, Australia and UAE markets; an online game for architects called Optiman – The Superhero Architect; USB sales material; an iPad app for the Optima team; and finally a glass thickness calculator app which has already proved popular with architects who regularly need to make calculations regarding the load that different glass widths can support.
In this time Cyber-Duck have also continued to provide web support and marketing services which has helped to grow the online awareness and success of the business.
Optima Products Divisional Sales Director, Christian Mabey was delighted to see the new website launched, stating "Optima is thrilled with the new responsive website which underlines Optima's position as an innovative market leader. Our new website needed to be at the forefront of web design and technology as architects and specifiers will expect an elegant, engineered, high performing solution, synonymous with our partitions, from Optima".
Cyber-Duck Production Director Matt Gibson was also pleased to see the successful launch of yet another Optima project, claiming "It's great to see another successful launch for Optima. They are a great client to work with and it is really exciting how Optima embrace the latest developments in technology and the Web to always produce something that is focused on providing industry leading user experiences."
Optima Contracting Ltd
Optima's strength is in excellence of design, quality of product, outstanding customer service and a reputation that is second to none in the office interiors market. Optima offer award winning innovative products, as a supply and fix subcontractor in London and the South East, primarily, but not exclusively, selling Optima branded products.
Optima Products Limited – Is a wholly owned subsidiary that designs, manufactures and distributes an extensive range of Optima branded system partitions and associated products. Optima Products are installed in the UK by Optima Contracting or via a nationwide network of approved dealers.
The Emphasis of the business is focused on skilled staff as well as in continued product development, all Optima partitioning systems are manufactured in the UK, at a facility near Bath. Optima make sure lead times are short and that quality is strictly controlled, ensuring that the business continues to be the specifiers partition system of choice both in the UK and Internationally.
Optima continue to grow and invest in expanding markets with additional manufacturing sites in Malaysia and Partnerships in Singapore and India.
About Cyber-Duck
Established in 2005, Cyber-Duck is a leading independent digital agency with a world-class reputation, working with global brands including The European Union, Imperial Tobacco Plc and Arsenal FC. Cyber-Duck's core services are Web & Mobile Production, SaaS Technology, UX Consultancy, Branding and Marketing. Cyber-Duck has won some of the most sought after industry awards including Webby Awards, the Construction Marketing Awards, the Davey Awards, the Communicator Awards, the Interactive Media Awards, and the W3 Awards.