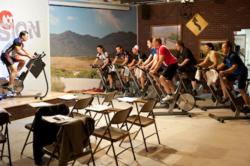 After purchasing Heart Zones® Cycling, and Stage5 Cycling, we had three outstanding sets of curriculum to merge into the best insights and methods available for the instructor who wants to 'Keep it Real".
Pittsburgh, PA (PRWEB) July 09, 2012
The first brand-independent Indoor Cycling (often mistakenly referred to as Spinning®) Instructor education is now available on-line. After completing this full day, cycling-specific course, including two demonstrated practical master classes, students have the option of taking an on-line exam for certification . Students can also submit a 20 minute video of their teaching for personal critique and analysis. Indoor riding enthusiasts who want to become an instructor will no longer be forced to wait for a workshop to be scheduled near their home town, or to travel hundreds of miles to take an instructor certification course.
Between the cost of travel, and convenience of on-line education, this is clearly an idea whose time has come. The Essentials Workshop & Certification course is a comprehensive program containing more than 6 hours of instruction including 2 Master classes with USA Elite level cycling coach and founder of Stage5 Cycling, Tom Scotto. Mr. Scotto's reputation as the standard bearer of Master Instruction, who both teaches and coaches equally well in both the Indoor and Outdoor cycling communities, is well known with indoor and outdoor riders alike.
"We spent as much time getting the content right as we did producing a high quality video production. After purchasing Heart Zones® Cycling, and Stage5 Cycling, we had three outstanding sets of curriculum to merge into the best insights and methods available for the instructor who wants to 'Keep it Real". We also shot specific sequences outside with Tom and his road bike in order to show how various movements, positions and training techniques are both effective and applicable in both environments." said Gene Nacey, Chief Cycling Officer, Cycling Fusion. "The ability to make Indoor Cycling very sport specific and fun at the same time was virtually non-existent in the past. The extremes of good training but no fun, or great fun but little to no value in real cycling, were the norm. We knew these two objectives were not inherently incompatible. It just took some time to tease out the right combination of each to create what we feel will be the next big gust of fresh air in our industry. Tom and I have taught this way for years now, and it's time to make these techniques much more accessible."
The Industry Is Changing
Just 4 years ago, Cycling Fusion wrote their Manifesto calling on the manufacturers to begin putting Power meters on their stationary bikes, and providing training tools that outdoor cyclists are accustomed to using. While many facilities are still using bikes created prior to 2008, most new bikes now do come with computer consoles with a great deal of training tools. Consequently Cycling Fusion has created three separate workshops for each major facet of cycling training. These are progressive and inter-related courses, providing for consistent and motivational growth opportunities for Instructors as they gain more experience and wish to establish greater mastery at each level.
"By focusing on Heart Zones® and cardiovascular development in the second certification workshop, and then Power Training in the third, we are able to dedicate more time to the absolute essentials for every new instructor." said Tom Scotto, Director of Education & Sportif, Cycling Fusion. "This is especially fortunate since this gives us the needed time to cover not only the most critical safety and form topics, but this allows us to go into more depth on the latest technology seen on the new bikes, Instructor teaching apps, music sites and other cutting edge techniques to take them to the professional level."
How It Works
After signing up on-line, budding instructors have 6 months to complete the on-line course, and up to a year to take the on-line exam. All they need is a computer with internet access. The exam is optional, but may be required if the health club wants to see a hard copy of the certificate. In addition, a video analysis is available for all students that may be concerned that they are not getting the one-on-one attention of a live workshop. When asked about how the company can certify someone they have never seen, the company's CCO responded this way: "I've been certified by multiple Indoor Cycling programs including the one offered for Spinning® by Mad Dogg Athletics. Not one of them saw me teach, nor did I have any individual attention for any other type of personal scrutiny." Explained Nacey "It is simply not practical in a large class with multiple students to think an instructor can do a one-on-one analysis and still cover all the material that a new instructor is going to need if they plan on teaching in a commercial environment. We think that the video analysis we will do on a person to person basis will provide far more insight and individual attention than any live session can realistically offer."
For more information on The Essentials Workshop for Indoor Cycling Instructor Certification and other resources for Indoor Cycling Instructors, please check the Instructor section of the company website, or contact (Tom Scotto) at (877-312-5533) or (customerservice(at)cyclingfusion.com).
Trademarks
The Company's trademarks may not be used in connection with any product or service that is not the property of the Company, in any manner that is likely to cause confusion among customers, or in any manner that disparages or discredits the Company or its affiliates. Other registered trademarks and trademarks used on this site are the property of their respective owners and are used herein solely for descriptive purposes. Mention on this Website of trademarks held by other parties should not be construed as a challenge to said trademarks' status or ownership.
Cycling Fusion® is a registered trademark owned by CyclingDVDs.com, LLC
Spinning® is a registered trademarks of Mad Dogg Athletics, Inc.
About Cycling Fusion®
Cycling Fusion provides a comprehensive set of tools and services that optimize outdoor cycling with expert indoor training anytime, anywhere. With the expertise of world-class cycling coaches built into its exclusive technology, Cycling Fusion offers digital classes, virtual rides, rider educational workshops and streaming videos for indoor cyclists. It provides training, certification and session building tools for cycling instructors, and offers complete remote cycling programs for health clubs. Headquartered in Pittsburgh, Cycling Fusion's goal is to provide everything a cyclist needs indoors, to improve their riding outdoors. To learn more visit http://www.cyclingfusion.com
Editorial Contact:
Danny McElhinny
25 Aces
724-301-0947
danny(at)25aces.com