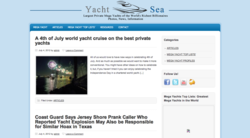 it's a step towards bigger changes and greater things
Los Angeles, California (PRWEB) July 06, 2012
Today, Yacht-Sea is launching a revamped website that features a brand new layout that highlights blog posts and the latest news in yachting, the largest super yacht, and everything else about yachting.
The new website layout features a more mainstream homepage with a main content feed that was not present in the website's previous incarnation. New posts were relegated to a separate "articles" section of the website. This left the homepage looking stagnant for a long time, with only the articles section receiving regular updates.
Now, the website has been restructured to feature the regular post more prominently on the homepage. Here, the site is able to share in-depth and up-to-date information on yachting around the world.
This new development comes at the heels of the acquisition of two new site managers to help with the website's operation. Neither of the managers have made themselves known in any form as of yet, but it stands to reason that they had a hand in the implementation of the new design and look of the site.
This is a step in the right direction for the site that just a mere month ago experienced very little activity. In a statement he made in June, site manager Nicolas Camp said, "I know that it is barely even a change at all, but it's a step towards bigger changes and greater things. It's all about knowing what your users want and need in your site."
This was the first hint at a larger revamp of the website and it seems as through the team has been hard at work developing the website. Those efforts seem to have been fruitful, as evidenced by this major update.
About Yacht-Sea
Yacht-Sea.com is a website featuring blog posts about luxury yachts and ocean yachts. The blog also features lists of the largest super yachts in the world, and the most expensive mega yachts in the world. Yacht-Sea also features the latest news on yachting.