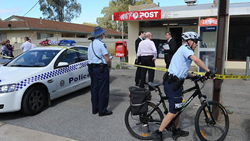 It's important that all incidences of crime be reported as quickly as they can, this way the police and the community can respond
(PRWEB) July 09, 2012
According to the Crime Library and Webster Lawyers Adelaide is the City Of Corpses as per capita Adelaide has recorded more of Australia's most notorious crimes than any other Australian capital city.
This appears an appropriate name if you look at the crime's reported in Adelaide between July 2 and July 5. The ABC shows that between July 2 and July 5 there were 25 separate articles on crime in Adelaide. For the same reporting period, Melbourne had only 23 separate articles on crime.
Considering Melbourne's population is 3,000,000 more then Adelaide this statistic is staggering. The Adelaide Police Force have realized this and in response have increased the number of Transit Police and increased patrols of crime stricken areas.
The increase in number of Transit Police will help increase the capacity and flexibility of TSB to target specific routes for offenders according to Assistant Police Commissioner Bronwyn Killmier.
Ken Gluche CEO Of Webster Lawyers says "We welcome the increase in police numbers on the street which will lead to a safer city. People who are victims of crimes need to come forward and seek help so we as a community can respond."
"Even if you're embarrassed or doubt you have a case, it's always best to seek professional qualified help. Either go to your local police station and talk to an officer or see a lawyer who has experience."
According to Damon Guppy in a recent article in the Cairns Post the revival of Neighborhood Watch programs would ease the burden on police resources and curb the climbing crime rate.
Barron River MP Michael Trout agree's stating "If you don't have a strong community, you will never stop crime."
While the first few days in July have been crime riddled for Adelaide, the addition of extra police resources and active community approach should help to reduce the incidence of crime.
"It's important that all incidences of crime be reported as quickly as they can, this way the police and the community can respond" says Ken Gluche CEO Of Webster Lawyers