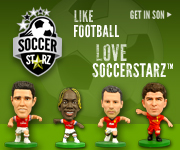 If You Like Football, You Will Love SoccerStarz
London (PRWEB UK) 9 July 2012
Launching with Man Utd, Liverpool, Arsenal and Chelsea. Creative will launch a new line of miniature football figures, SoccerStarz, in August this year. SoccerStarz will hit the market just as the football season starts following the most exciting Euro championship ever.
With Spurs, Newcastle, Celtic, Real Madrid and Barcelona following in the Creative line-up, Creative already has secured the rights to some of the world's greatest teams.
Mark Stinchcombe, the Head of Creative Toys says, "If you love football, then you'll love SoccerStarz and creating your own personal team with all your favourite players. Unlike stickers, these uniquely crafted sculptures are not just for collecting but are actual figures to touch, share, swap and play with".
Creative has paid a great deal of attention to player likeness, which will be as accurate as possible so that players are instantly recognizable and yet Creative has managed to keep to price points which are great value for money, making sure that SoccerStarz will create a buzz in the playground. SoccerStarz will be available in blind sachets on a variety of different coloured bases for £1.99 or you can choose your favourite players in blister packaging for £2.99. Watch out for the ultra-rare black bases in the secret sachets.
As important as the SoccerStarz themselves will be their very own, dedicated, website http://www.soccerstarz.com, for which Creative has big plans. "We intend to make the site the natural home for fans, who want to interact and talk about football" explains Trading Director Glenn Barnard. "It will be awesome. The fans of SoccerStarz are going to love the figures and rave about the website."
Football figurines are already loved by fans of all ages, and especially by kids. Market research places them way above other football collectables. Why? Because they provide an opportunity to collect, swap, play and show support for your team all at the same time.
All products are fully licensed and endorsed by the world's leading teams.
For further information visit:
Creative Toys Company
http://www.soccerstarz.com
For Trade Inquiries: Glenn Barnard, Trading Director, (0) 208 664 3484, glenn(at)creativetoyscompany.com
For Marketing Support: Sal Georgiou, Marketing Manager, (0) 208 664 3463, sal(at)creativetoyscompany.com