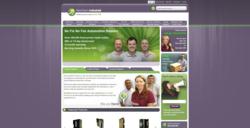 Over 200,000 part numbers including end-of-life and obsolete factory automation products
Blackburn, Lancashire (PRWEB UK) 8 July 2012
Northern Industrial, one of the UK's leading suppliers of automation parts and repairs, are excited to announce the launch of their new website.
The new website, found at nicontrols.com, aims to enhance customer experience with up-to-date prices and availability displayed online for over 200,000 part numbers including end-of-life and obsolete products. Improved search functionality and categorisation means users can locate their automation equipment quickly and easily.
"It is vital for our customers to be able to source the parts they need in as little time as possible" explained David Lenehan, Director of Business Development at Northern Industrial. "When customers come to us they are often in the middle of a costly breakdown situation and need to reduce further downtime".
"We have built the new site to include detailed product information about each part and enable customers to buy and pay for parts and repairs online. This is especially beneficial to our global customers who may find it difficult to call us because of differing time zones etc."
Northern Industrial have worked tirelessly over the last year to define a wide range of attributes so that users can find exactly what they need. This means customers can search for products such as inverter drives by kW size, Amp rating, input voltage and many other attributes specific to their environment and requirements.
Northern Industrial will continue to be worked on in the coming months to further expand the site with more detailed product information, prices, images and supported products to continue growth and expansion within the industrial automation sector.