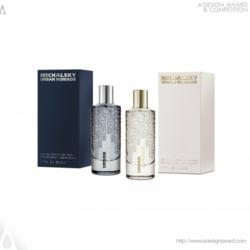 Como, Italy (PRWEB) July 07, 2012
A' Award and Competitions are pleased to announce that the design Michalsky Urban Nomads by Peter Schmidt, Mathies Janßen, Sonja Glimm and Marcel Zandée has been granted the renowned Golden A' Design Award in Packaging Design Category selected as the winner by the transnational arbiters of the A' Design Awards & Competitions among thousands of works.
More on Michalsky Urban Nomads
Peter Schmidt, the lead designer of the winning work Michalsky Urban Nomads says "Embossed text in the glass. We wanted the perfume to get the same qualities as the clothing line: "MICHALSKY caters for the high fashion segment and combines classic styles with streetwear influences. The result is impressive, with discrete luxury and urban flair for cosmopolitan customers who value the combination of high quality, tradition and the latest fashion trends." Learn more about the award winning design: http://www.adesignaward.com/design.php?ID=24018
Team Members for Michalsky Urban Nomads
Michalsky Urban Nomads was designed by Peter Schmidt, Mathies Janßen, Sonja Glimm and Marcel Zandée.
The Golden A' Design Award
The Golden A' Design Award is a prestigious award given to top 3% percentile designs that has achieved an exemplary level of in design. The designs are judged by a panel of three different jury which is composed of Academic, Professional and Focus Group Members. The designs are evaluated with score normalization to remove any biases and are voted on aspects such as functionality, ergonomics, engineering, presentation, innovation, usability, fun details, technology, and any other specific points that could be considered, each of these points are further weighted for different jury groups.
About A' Design Award and Competitions
A'Design Award and Competitions, aims to highlight the excellent qualifications of best designs, design concepts and design oriented products. A' Design Award and Competitions are organized and awarded annually and internationally in multiple categories to reach a wide, design-oriented audience. Learn more: http://www.whatisadesignaward.com