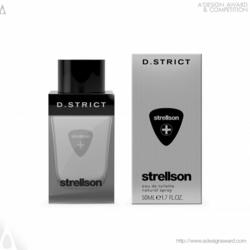 Como, Italy (PRWEB) July 07, 2012
A' Award and Competitions are proud to see that the design Strellson D.strict by Peter Schmidt, Mathies Janßen, Sonja Glimm and Marcel Zandée has been acknowledged with the famed Silver A' Design Award in Packaging Design Category selected as the winner by the transnational arbiters of the A' Design Awards & Competitions among numerous designs.
Concerning Strellson D.strict
Peter Schmidt, the designer of the winning project Strellson D.strict explains "Exciting launch of the fragrance forms a clear contrast of tart and subtle spices, complemented by vibrant ginger. The heartbeat of the composition is produced by the exciting combination of heat and sensual masculine freshness, soft and warm saffron incense meets the freshness of cool mint leaves. The base note remains in an impressive reminder of smoky woods such as cedar and patchouli and a soft trace of pure vanilla." To learn more visit: http://www.adesignaward.com/design.php?ID=24019
Team Members for Strellson D.strict
Strellson D.strict was realized by Peter Schmidt, Mathies Janßen, Sonja Glimm and Marcel Zandée.
The Silver A' Design Award
The Silver A' Design Award is a prestigious award given to top 5% percentile designs that has delivered an exemplary level of perfection in design. The designs are judged by a panel of three different jury which is composed of Academic, Professional and Focus Group Members. The designs are evaluated with score normalization to remove any biases and are voted on aspects such as functionality, ergonomics, engineering, presentation, innovation, usability, fun details, technology, and any other specific points that could be considered, each of these points are further weighted for different jury groups.
About A' Design Award and Competitions
A'Design Award and Competitions, aims to highlight the excellent qualifications of best designs, design concepts and design oriented products. A' Design Award and Competitions are organized and awarded annually and internationally in multiple categories to reach a wide, design-oriented audience. Learn more at: http://www.whatisadesignaward.com